200th England Test on Sky Sports: our pundits pick their best Tests
Straussy, Nass, Athers, Bumble, David and Bob have their say...
Last Updated: 14/08/14 9:57am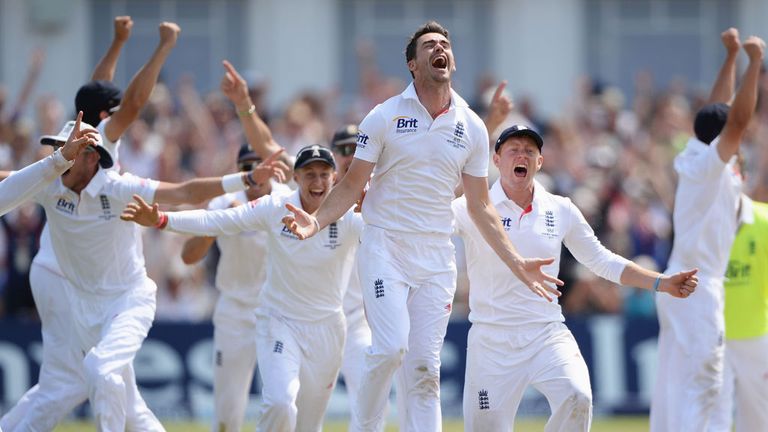 There have been some great England Tests on Sky – but which is your favourite?
Did you know...?
Since Sky became ECB's principal live TV broadcast partner in 2006, the number of cricket clubs offering with women and girls' sections has grown from around 90 to more than 600.
Ahead of this week's fifth Test at the Oval - the 200th live England Test match to be shown by Sky – we asked our commentators to pick one that will forever stay in their memory.
Read their views – and have your say via @SkyCricket
Andrew Strauss: England v Australia, first Test, 2013
England won by 14 runs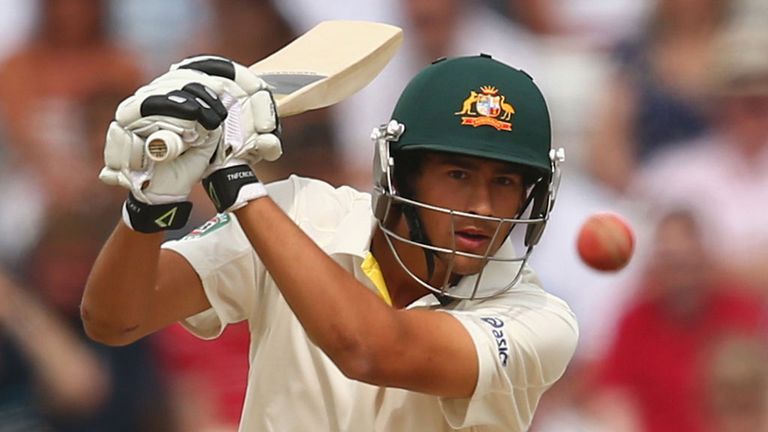 Andrew: "This game lived up to all the pre-Test hype as the momentum swung violently between the two sides. It was a real privilege to watch. I was nervous on the first morning because it was my first Ashes Test for Sky and the atmosphere was crackling. I spoke to some of the players beforehand and saw how focused they were; both sides knew that they needed to strike the first blow. After being bowled out for 215, England had Australia in dire straits at 117-9 before Ashton Agar played with incredible freedom and no little skill to score 98 from the No 11 spot; he hit some scintillating shots and by the end everyone wanted to see him get a hundred. 
"We all knew it was going to be difficult for Australia to chase down 311 to win in the fourth innings after Ian Bell's hundred and Stuart Broad's 65 had given England the initiative, because the wicket was turning and Graeme Swann was wheeling away. For large portions of the time it didn't look like they were going to get anywhere near but then Brad Haddin (71) played a belting innings to take Australia incredibly close.
"The tension at the end of the game was extraordinary as England secured a great victory that set them on their way to win the series. James Anderson took that final wicket and deservedly so because he bowled fantastically on a surface that was pretty tough for seamers – getting 10 wickets was an outstanding effort – and there were great English scenes of jubilation."
Nasser Hussain: Australia v England, fifth Test, 2011
England win by an innings and 83 runs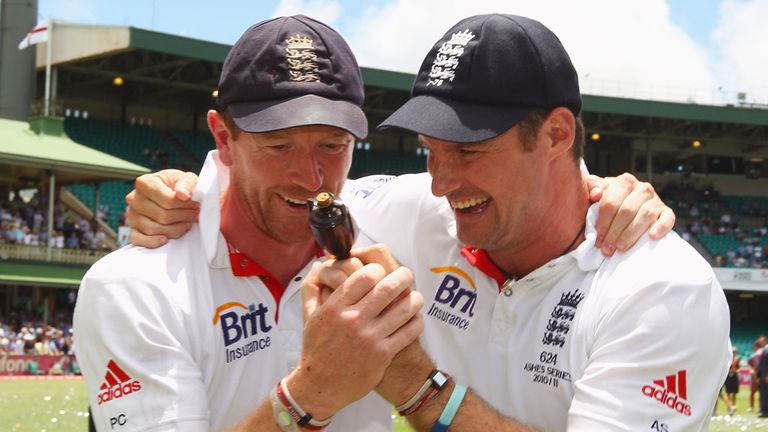 Nasser: "Having been walloped by Australia so often over the years (particularly Down Under), the sight of Andrew Strauss' side grinding them into the dust to claim England's first Ashes win in Australia for 24 years with a momentous 3-1 series victory, was a very proud moment. England went into the game 2-1 up after a crushing win in Melbourne and once again they only needed to bat once as the home team had no answer to another dominant display from a disciplined outfit moulded by Andy Flower. Quite simply, England played 'no fear' cricket, bowling Australia out twice for under 300 after Michael Clarke had chosen to bat. Even when Australia were 105-1 on the first day there was no sense this wasn't England's game and once James Anderson (4-66) had rattled through the middle order, the batsmen – led by Alastair Cook – inflicted further scarring on their hosts.
"Cook signed off from a scintillating series with a majestic 189 and Ian Bell (115) and Matt Prior (118 off 130 balls) further exposed the limitations of an attack that epitomised a very poor Australia side. Once England's bowlers had their foot on the throat, they didn't let up; Anderson, Tim Bresnan and Chris Tremlett shared the majority of the wickets but once again Graeme Swann put in a shift, getting through 28 overs at under three-an-over. When Tremlett bowled Michael Beer to complete victory by an innings and 83 runs, England embarked on a thoroughly deserved lap of honour around the SCG. It was a special moment for us all – current and former players, fans and viewers at home, all of whom had waited so long to see witness such an achievement."
Mike Atherton: India v England, first Test, 2008
India win by six wickets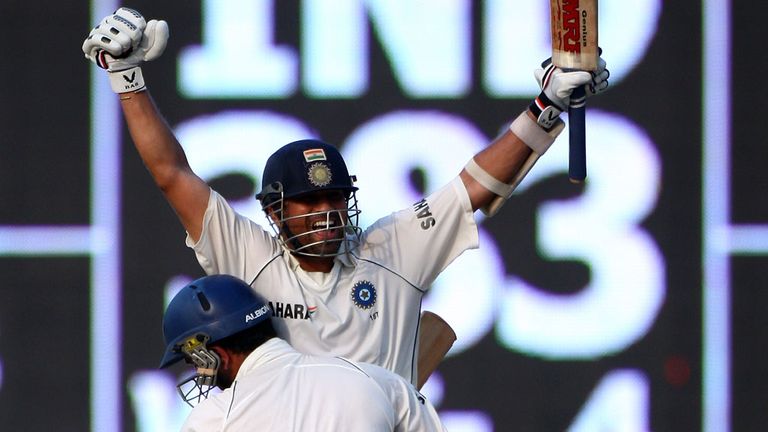 Athers: "This match resonates with me for many reasons. The build up to the game in Chennai was very tense after the bombings in Mumbai, but I remember one advert in particular which featured Sachin Tendulkar pledging to do his utmost for India every time he played. England did the right thing in returning to India after the tour was initially abandoned, however Kevin Pietersen's side was surrounded by security so there was a lot going on.
"The game built up to a fine climax and on the last day India succeeded in chasing down the 387 they needed to win, for the loss of only four wickets. I remember going out onto the pitch at the end of the game and the atmosphere was unbelievable. Tendulkar had just scored a match-winning hundred in front of what was virtually a full house and it was very evident what the achievement meant to all those that were present. The emotion made it a special place to be at that particular moment."
David Lloyd: NZ v England, first Test, 2002
England win by 98 runs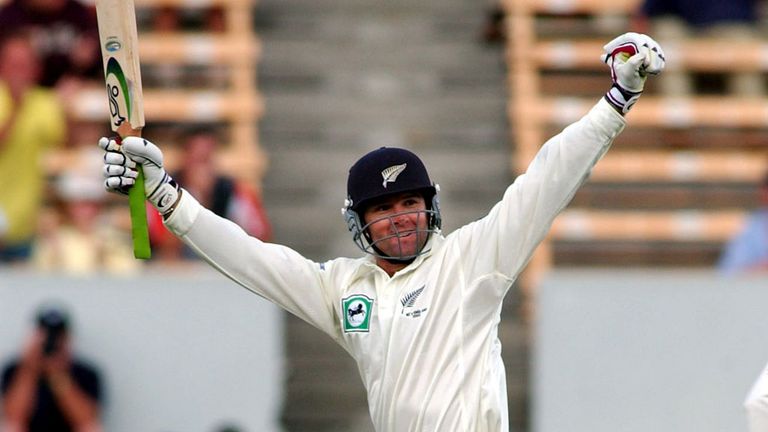 Bumble: "I remember Graham Thorpe scoring a fantastic double hundred in Christchurch - the third fastest at the time - but it was met with a whirlwind response from the brilliant Nathan Astle. Thorpey racked up 200no off 231 balls before Nasser Hussain declared, leaving the home side needing 550 to win. Everybody I talked to said 'that's ridiculous, why didn't we declare at 450 or 500?' But fast forward a day or so and it didn't seem so odd as Astle thumped England around the park on his way to 222 off 168 balls. England were in bits, they were battered into submission.
"Andy Caddick didn't want to let go of the ball and dear old Nasser went pale! It was a real slog-out - something that is normally totally alien to Test cricket. It really sticks in my mind, particularly the stick that Nasser got! Beefy winds Nass up about it all the time even though England won by 98 runs in the end. But whenever someone in the box says 'why hasn't Strauss declared yet, they've got plenty', Nasser always comes back with 'remember Christchurch!'"
David Gower: South Africa v England, second Test, 1995
Match drawn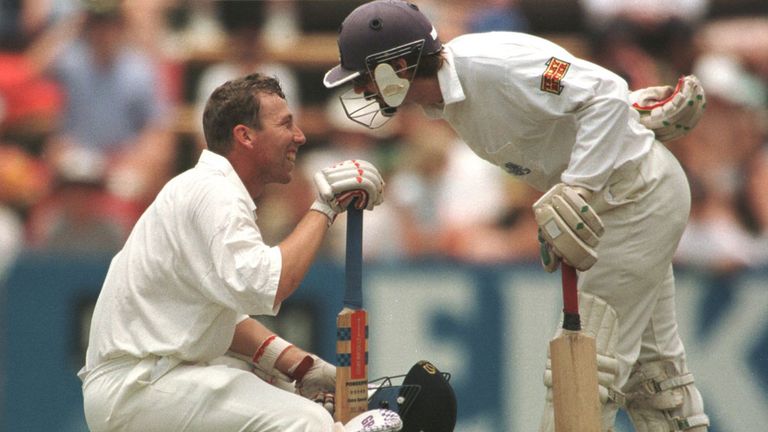 David: "For sheer bloody mindedness at the crease and an example of utter commitment to your country's cause, I'm going to select Michael Atherton's 185 against South Africa in the second Test at Johannesburg. Set a highly unlikely 479 runs to win, the tourists were 232-5 when Jack Russell joined skipper Atherton at the crease - and 277 minutes later the pair were still there, unbeaten and unbowed. Given the situation they were in and that they faced a bowling attack that included Allan Donald and Shaun Pollock, few gave England a chance of saving the game.
"But Atherton's innings, which lasted 643 minutes and comprised 492 balls, proved that with the right mind-set, allied with determination and no shortage of skill, it is possible to salvage a game. His effort was a testimony to everything that makes Test cricket the true challenge it is. Atherton and Donald had many a gladiatorial contest over the years, not least at Trent Bridge in 1998, and it was one of the defining battles of that era."
Bob Willis: West Indies v England, first Test, 1990
England win by nine wickets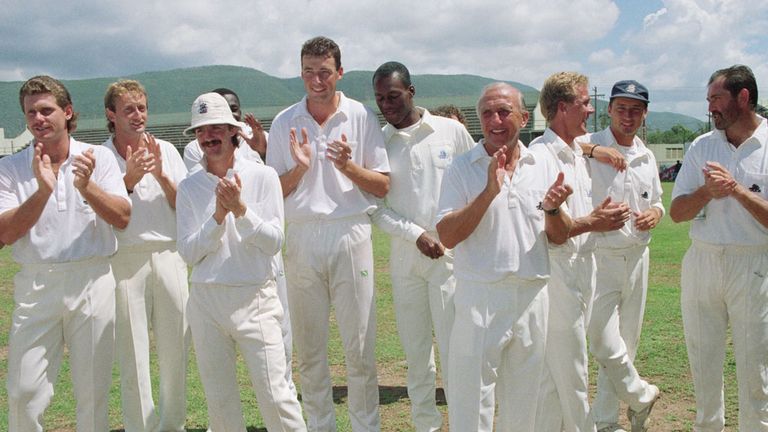 Bob: "England's nine-wicket victory over a mighty West Indies side at Sabina Park - the first England Test to be broadcast live from overseas - was a tremendous springboard for Sky's coverage. It was a moment that changed cricket broadcasting forever and signalled a shift in the fortunes of both sides. It was a great surprise that England were able to bowl the West Indies out twice on what was probably the last of the old-fashioned pitches at Sabina Park, where they used to spin roll it circularly to get a gleaming shine.
"Both Angus Fraser, who took 5-28 in the first innings, and Allan Lamb, who cracked 132 first up, had a tremendous record against the West Indies. Lamby scored six of his 14 centuries against the men from the Caribbean while in modern times only Fred Trueman, John Snow, Fraser and latterly Steve Harmison have had any success in the West Indies at all. It's worth making the point that the side England beat was only missing Clive Lloyd from the halcyon days when the West Indies dominated world cricket."
Watch the fifth and final Test between England and India live on Sky Sports 2 from 10am on Friday.