Sam Robson: Do England stick with him or is it time for a change?
The Cricket Writers on TV panel has its say...
Last Updated: 10/08/14 9:52am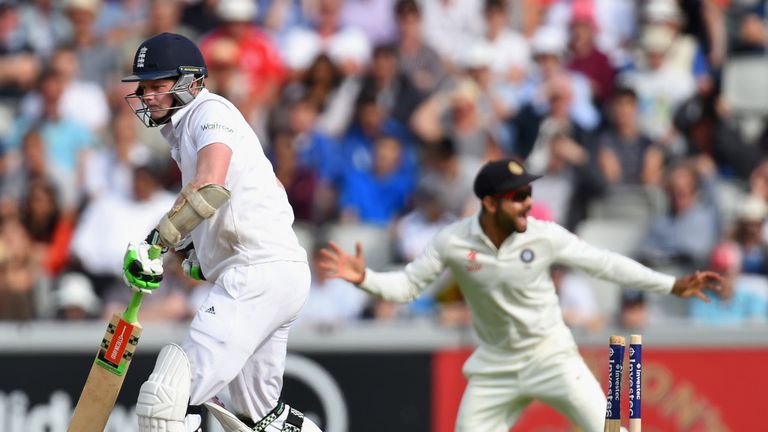 Is Sam Robson's race at the top of England's order run?
The Cricket Writers on TV panel took a close look at the Middlesex man's form in the wake of England's crushing fourth Test victory over India, a match in which Robson made just six in his only opportunity at the crease.
That single figure score took his overall series tally to 128 runs in six innings at an average of 21.33 – a total just one better than the 127 he scored against Sri Lanka earlier in the summer at Lord's.
Writing in the Sunday Times under the headline 'Time for Robson to Overcome Demons', former England captain and Middlesex mainstay Andrew Strauss highlighted the opener's current frailty around off-stump.
Decision
Peter Hayter, of The Cricket Paper, told CWOT that the pressure is building on Robson with a number of candidates waiting in the wings to take his place.
"Robson is not very pleasing on the eye," he reflected. "The problem for England is that they've got Australia coming in a year although there is one more Test to go in this series, the next Test cricket is in the West Indies in April.
"So a decision is going to have to be made. Do you stick with him? There are other people around. Michael Carberry might think he is worth another go and probably still is.
"You've still got Nick Compton floating around and Alex Hales is looking a bit more like a longer form cricketer; I saw him this week batting very well for the Lions.
"There's also James Vince, so the pressure is on at the top of the order. A couple of Tests ago we were thinking the pressure might be on the other guy, but it's all on Robson now.
"It will be interesting how he responds. Technically, he's not going to change; he's not going to resolve that now."
Formulaic
Mike Selvey, of the Guardian, suggested that the step up to Test cricket has brought about a fundamental change in Robson's technique and said that could be at the root of his run struggles.
"I had a conversation with Straussy yesterday on this very subject," revealed Selvey.
"We kind of agreed that Robson is a strange cricketer in that we feel he is very, very anonymous – he was not obvious on the field. Sometimes you see him out there and you think there's a sub on. You just don't notice him.
"I know he's spent some time under the lid but when he's in the outfield he could easily be mistaken for the sub – to me, he's not an obvious part of the gang if you like.
"I saw him bat a little bit last year and I saw him bat at the start of this year and one of the things I felt about him then was that he plays the ball nicely late; he's very still at the crease, which I quite like. He's got no huge trigger movements.
"It seems to me that now he is trying very hard to get bat on ball; he's playing it that little bit earlier, he's at the ball hard; he's very obviously an off-side player, he looks for that cover drive.
"He's very angular, he's very low, he's very precise in how he plays. He's almost too formulaic – he's not relaxed enough."
Watch England take on India in the fifth and final Test live on Sky Sports 2 from 10am on Friday.