England's Test summer of 2014: Willis, Butcher and Shastri grade the players
England are on the up and up, says Bob, and they will need to be...
Last Updated: 19/08/14 4:10pm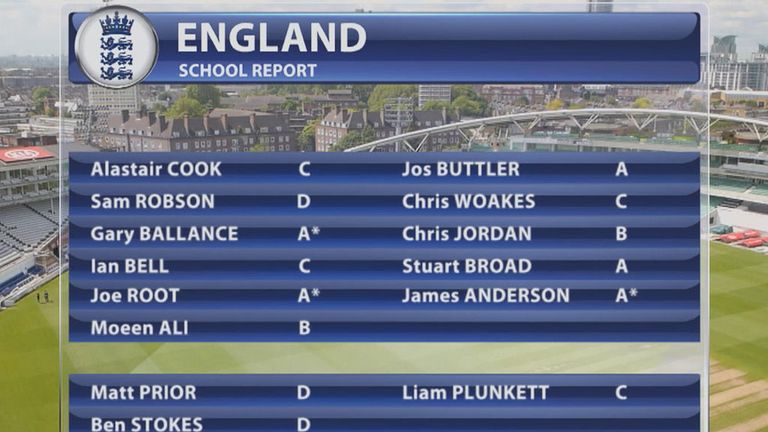 It's been an entertaining Test summer – but just how well have England's players done?
After the debacle of the Ashes winter, Alastair Cook's side succumbed to a series defeat to Sri Lanka and then slumped at Lord's to India before staging a remarkable fight-back to win 3-1.
'Headmaster' Bob Willis and his deputies Mark Butcher and Ravi Shastri convened on our Summer Verdict special to give their end-of-term report on the England class of 2014, starting with the XI that turned out for the final Test at the Oval…
Alastair Cook – C
2014 stats: 11 inns, 376 runs, Hs 95, Ave 37.60, 100s: 0, 50s: 3
Bob: The series against Sri Lanka was bad news for him all round. He was standing in the corner of the classroom with the dunce's cap on. He didn't captain the side well – he made appalling decisions in the field and he couldn't get any runs, finding all manner of ways to get out but he didn't throw in the towel. His batting improved and although he's not in the most fluent form, showed everyone with his resilience and stick-ability that he's quite a character.
Sam Robson – D
2014 stats: 11 inns, 336 runs, Hs 127, Ave 30.54, 100s: 1, 50s: 1
Butch: The stats aren't good. Less than the numbers you've got two points. Firstly, any batsman would love to face sub-continental sides at home in your first series; secondly, time after time he got out in the same manner. It's a real problem for him.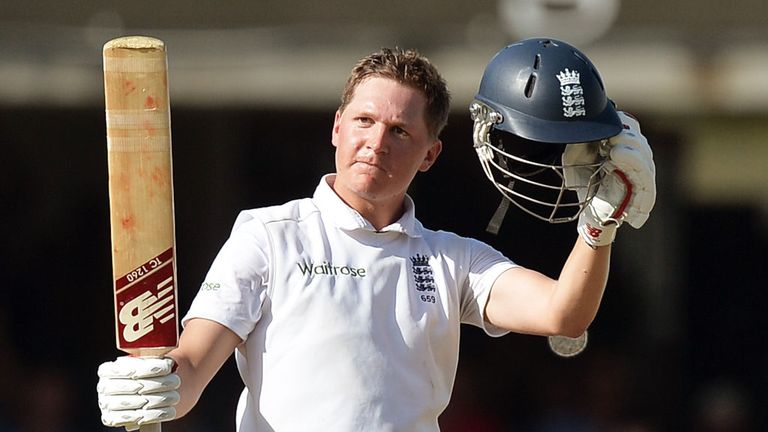 Gary Ballance – A*
2014 stats: 11 inns, 704 runs, Hs 156, Ave 70.40, 100s: 3 50s: 3
Butch: Having spent his life as a No 5, middle-order batsman for Yorkshire, the question was 'how has this guy ended up in the problem position of No 3, trying to fill Jonathan Trott's shoes?' There were a couple of little concerns about how deep he gets in his crease against the moving ball but he dismissed all of that and played beautifully according to the situation and then perhaps, most notably, was able to go through the gears and really attack when the team required him to. It was a staggeringly good first summer in Test cricket.
Ian Bell – C
2014 stats: 11 inns, 434 runs, Hs 167, Ave 39.45, 100s: 1 50s: 3
Bob: It was a disappointing summer overall, but that was some hundred at the Ageas Bowl. He had a slice of luck at the start but it was some of the best batting that we saw during the whole of the summer. Although he was stumbling around a lot of the time, he is clearly a quality act. He caught pretty well most of the time too. I'd rate him over the summer very similarly to Cook.
Joe Root – A*
2014 stats: 11 inns, 777 runs, Hs 200no, Ave 97.13, 100s: 3 50s: 3
Ravi: He is batting beautifully at No 5. The way he is playing I'm sure he'll do the job if there is any reason to send him up the order. He grew from strength to strength. What was good to see was his hunger to make the big runs. When he gets past 100 he doesn't want to stop there, he wants to carry on and get the big score. His understanding of match situations is very good – he knows when to up the tempo – and he's clearly a terrific prospect.
Moeen Ali – B
2014 stats: 10 inns, 286 runs, Hs 108no, Ave 31.77 – plus 22 wickets at average of 28.09
Butch: The hundred in the second Test against Sri Lanka at Leeds was sensational. What's happened since then has been a bit of a concern because the short ball has undone him and in so doing has undermined his confidence against everything else. The irony is that, from a spin perspective, we're pretty happy with him. But for his bowling I'd give him a grade 'C'. I've gone on record saying I don't think he's in the top six batters in the country and I still maintain that's the case.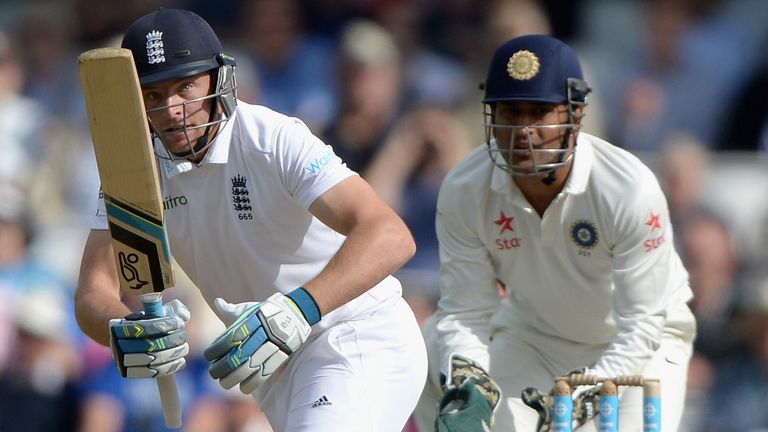 Jos Buttler – A
2014 stats: 3 inns, 200 runs, Hs 200, Hs 85no, Ave 66.66 – plus 11 catches
Butch: I'm excited about him all round. He got the chance to play in Test cricket after a staggering innings at Lord's in the one-dayer and he has the potential to be a match-winner in all forms of the game. I've nothing but praise for him and the expectation is now there, so he's got to maintain that level of performance.
James Anderson – A*
2014 stats: seven matches, 37 wickets at 20.89 apiece
Ravi: In hindsight, when India see what Anderson did with the ball after the 'Jadeja incident' and after the reprieve, I'm sure they would say 'we should have got on with it'. But MS Dhoni was the first guy to admit that Anderson is a champion bowler and the skills he showed this summer were fabulous to see. When he's on song, the thing I like best is the way he raises the bar when he's bowling to good players. He seizes the moment beautifully. He has great control of swing, both ways, and he's as good as anyone in the world when he's on his game.
Stuart Broad - A
2014 stats: seven matches, 26 wickets at 26.12 apiece
Bob: His summer went pretty well. He had a slow start and I think that was partly the hangover from the experience in Australia, although Broad was probably the star bowler for England 'down under'. He is a more aggressive bowler than Anderson; he likes the short stuff but he has this wonderful habit of getting wickets in a spell and knocking over two, three or even four at a time. His contribution with the bat shouldn't be under-estimated either. It is going to be a lot more difficult next summer against the Aussies when they are bouncing him but he's a very handy batter to come in against tired bowlers.
Chris Woakes - C
2014 stats: three matches, five wickets at 43.40 apiece
Ravi: He's still immature and has a long way to go but he's learning the trade and I think we can only judge him properly in 12 months' time but when he got his rhythm right at the Oval he looked pretty good and supported the others pretty well.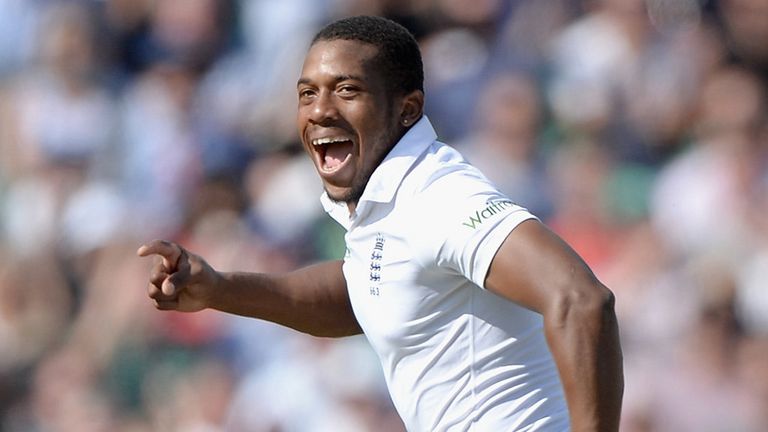 Chris Jordan - B
2014 stats: five matches, 15 wickets at 33.06 apiece
Butch: He is a handful and when he is running in with a bit of confidence he has the ability to bowl quickly and also to make things happen. Where Chris Woakes is very steady and you kind of know what you are going to get, Chris Jordan might be a bit all over the place but he gets people out. If you ally that to his catching and his batting talent, he has the most potential ahead of Woakes and Plunkett.
Plus…
Matt Prior – D
2014 stats: 7 inns, 179 runs, Hs 86, Ave 29.83 – plus 26 catches
Bob: He doesn't look like the sort of character who is going to be content coming back and playing county cricket after his operation. He's keen to play at the top level where he's done it. Yes, things haven't gone well in the last 12 months or so and clearly the injuries were impairing his keeping but I wouldn't be surprised if Prior got himself back into a touring party – maybe not as the No 1 wicketkeeper, but he's a very handy guy to have around.
Liam Plunkett – C
2014 stats: four matches, 18 wickets at 34.44 a piece
Butch: Liam was picked specifically because he was bowling consistently in excess of 90mph and who knows, had he been fit at the Ageas Bowl, he might well have played there too but the injury seems to have knocked him out. If you are going to play four quick bowlers, it's always handy to have different ones and he adds that extra bit of spice that is handy when you ally it with three other decent bowlers.
Ben Stokes – D
2014 stats: three inns, no runs – plus seven wickets at 33.14
Bob: I thought his bowling was very adequate indeed – I thought he bowled pretty well in the matches that he played but I'm afraid we all remember the three ducks on the wall. He didn't score a run in the three innings he played and a couple of the dismissals were embarrassing. It was a disappointing summer for him but he will return. You can only give him a 'D' for the three ducks.
How would you grade the players? Let us know @SkyCricket and make sure you tune in to the first ODI between England and India from 10am on Monday on Sky Sports 1.