Miller backing Pietersen
National selector Geoff Miller has backed Kevin Pietersen to come good in the upcoming Test series against Sri Lanka.
Last Updated: 23/05/11 2:38pm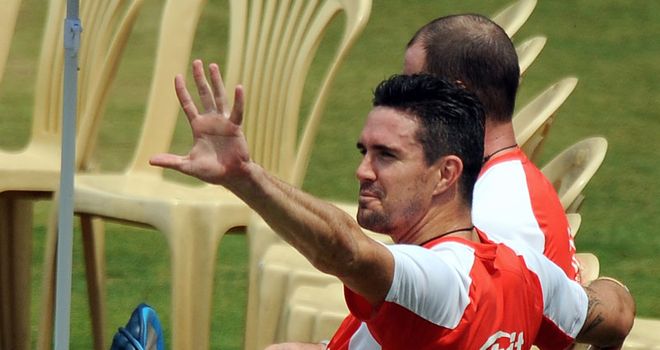 National selector Geoff Miller has backed Kevin Pietersen to come good in the upcoming Test series against Sri Lanka.
There have been rumblings of discontent with Pietersen's form over the last year or so, with him not being as consistent as he was when he first exploded onto the scene and then became England's talismanic batsman.
Only three Tests ago Pietersen was smacking a double century in Adelaide as England went 1-0 up in the Ashes and on their way to victory Down Under.
Struggling form and injury saw Pietersen not perform at his best in the ensuing one-day series and the World Cup, which he left early due to injury, and strangely Miller has been forced to explain if England had considered leaving him out.
However, fully fit again and heading back to Test cricket, Miller says Pietersen will show his best again as England face Sri Lanka in the first Test in Cardiff on Thursday.
Quality
"We know what a quality player he is," Miller said of Pietersen. "It's up to him to actually get some consistent runs for us now. We back him to do it, we have given him the opportunity."
Miller insists Pietersen is not an automatic selection for the Test squad though, and they would have no problem making the decision to drop him, but he believes they are still a long way from having to make that call.
"If it becomes a problem we will face that problem," he said. "But at the moment we'll back him to be the quality international player that he has been in the past and, we hope, will be in the future.
"I don't see any problem with that. If it needs be we will make the decision. I don't foresee it at this stage."
Along with Eoin Morgan being picked ahead of Ravi Bopara, Steven Finn got the nod ahead of Ajmal Shahzad in the 12-man squad.
Morgan hit 193 against Sri Lanka for England Lions just before the squad was announced, although he failed in his second spell at the crease in Derby.
Bowling unit
Jade Dernbach took a career-best nine-wicket haul and Finn took three second-innings wickets as he tries to prove he has stepped up his game.
Miller believes Finn has improved since the tour of Australia, and says the Lions games are proving vital in finding new talent to swell the ranks - especially in the bowling unit.
"There was a strength problem, a fatigue problem and also a technical problem - but he came back and worked really hard on them," Miller said of Finn.
"What's good is that he appreciates it and has gone away and worked on them. Our depth of seam bowling is quite exciting, not just from the point of view of one-day cricket as well.
"We have started to develop a real good batch of bowlers. The depth is there to have a rotation policy. You've got to make sure the depth you have is of international quality.
"You can't be bringing (someone) into the side that becomes detrimental to your performance. How you find that is in matches like the Lions."