Tremlett enjoying aggression
Chris Tremlett says he now has the aggressive streak that many felt he needed to become an established England international.
Last Updated: 02/06/11 11:39am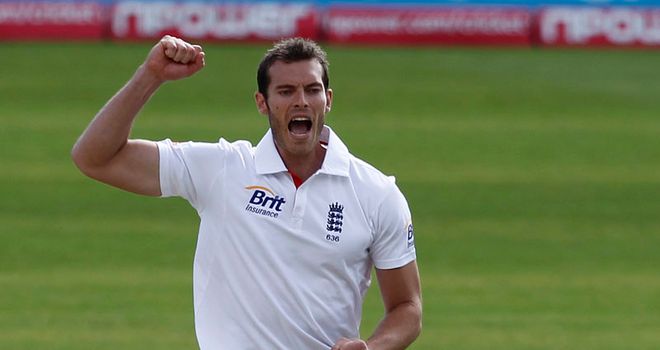 Chris Tremlett believes he has finally developed the aggressive streak that many felt was keeping him from becoming an established England international.
Tremlett took four wickets on his Test debut against India at Lord's in 2007 but was dropped from the side after that series due to injuries and a lack of form.
Concerns were also raised over whether the towering seamer could provide the aggression possessed by world class strike bowlers.
But the 29-year-old, who broke back into the side with an impressive performance in the Ashes series over the winter, says he has now learned how to keep up the intensity of his bowling.
"In 2007 I tried to be quite aggressive when I played against India. Maybe that was a bit forced a little bit, it didn't come naturally," he said.
Natural
"Now fast bowling and being aggressive is something that comes more natural to me and I have grown as a person and a cricketer.
"I went through a spell where I was in and out of the squad. Now I'm in the team and I am a lot more experienced, a lot more hungry, I know my game and body a lot better."
Tremlett will lead the England attack when he returns to Lord's for the second npower Test against Sri Lanka on Friday after playing a starring role in the tourists' defeat in the first match in Cardiff.
He took four wickets as Sri Lanka were dismissed for just 82 on the final afternoon to hand England an innings victory and now hopes to finish Tillakaratne Dilshan's side off at Lord's.
He added: "It was a dull couple of opening days in Cardiff but we came out in that last session and showed how good we are as a team.
"We showed that we are a team that aren't afraid of kicking the opposition when they're down. That's what we'll be looking to do in this game."