Broad defends Bell omission
Captain Stuart Broad has defended the decision to omit Ian Bell from England's Twenty20 side.
Last Updated: 26/06/11 1:44pm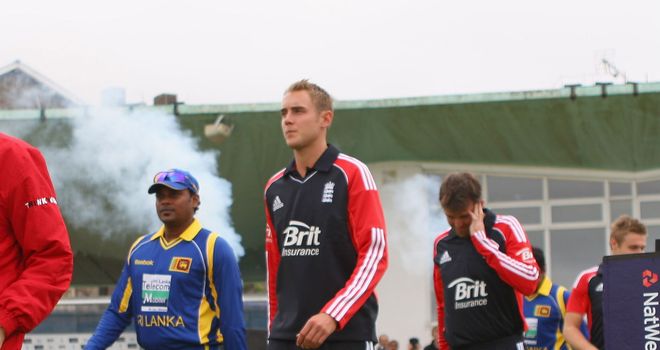 England Twenty20 captain Stuart Broad has played down the decision to omit Ian Bell from Saturday's nine-wicket defeat to Sri Lanka.
Broad's reign as captain suffered a disastrous start as his side were comprehensively beaten at Bristol, however the 25-year-old insists team selection was not a factor in the defeat.
The decision to leave out Bell, who struck two hundreds and two fifties in the Test series against Sri Lanka, backfired as England made just 136-9 in their 20 overs.
Let down by all of his batsmen bar Kevin Pietersen and Eoin Morgan, who shared a rapid 83-run stand, and left to celebrate a solitary wicket in the field, this was not the start Broad, or England, had in mind.
Fantastic
"I certainly don't think the team's disappointing performance is down to one man not being in the team," said Broad.
"I think, looking at the top of the order, Craig Kieswetter and Michael Lumb have shown fantastic tempo in the county game and looking back to the World Twenty20, they did their job very well.
"Belly has been in top form in the Test match arena obviously but I don't put a disappointing performance down to him not being in the side.
"In the middle order that extra bowling option felt necessary, certainly at a ground the size of Bristol and in conditions where any given bowler can go the distance."
England started the match with four specialist bowlers, three all-rounders and the occasional off-spin of Pietersen all on hand, however the team appeared to lack balance.
All-rounder Luke Wright, in particular, was used as something of a spare part, batting at seven and not called on to bowl, but Broad explained the Sussex man was a victim of England's under-par total.
"Wrighty would have been lined up to bowl at some stage because he's a very good yorker bowler, certainly in the later overs, but Ravi Bopara's variety and different slower balls were a bit more of a threat and I thought he bowled well.
"Wrighty would have bowled a little later on the innings, to get it under batsmen's feet and bowl straight at the stumps but chasing a low total, that was probably not what we needed.
"In an ideal world he'd have come on but with them needing five or six an over it wasn't really worth it."
Blame
Broad, who has been known for his fiery temperament in the past, refused to draw the spotlight on Nottinghamshire team-mate Samit Patel, who endured a woeful international comeback.
The 26-year-old was making his return from two and a half years out of the fold due to misgivings about his weight and work-rate, and was promptly run out at the striker's end for a duck having lazily failed to make his ground.
Two modest overs for 18 completed a miserable day, but Broad was eager to spread the blame.
He said: "Getting run out is a disappointing way to go and we know what a dangerous player he can be - he can take the game away from other teams.
"But it wasn't just him, that whole middle period where we had lost KP and Morgs we just stuttered. The balls were catching up with the runs, so to speak, and we lost our momentum.
"At one stage we were looking like we could get up to 160 or 170 and I think that would have been defendable."