KP ready to go nuts
Kevin Pietersen is "very happy" with his form in one-day cricket, even if he hasn't managed a 50-over century since 2008.
Last Updated: 05/07/11 7:51am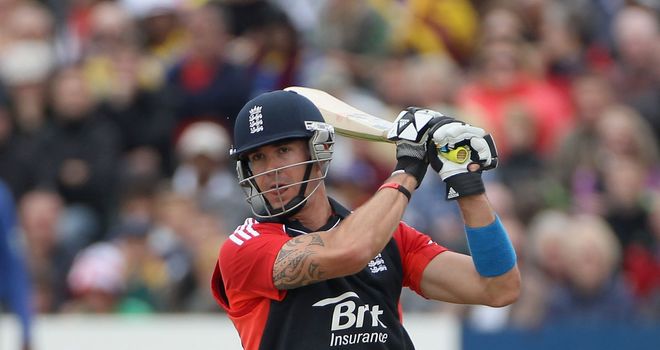 Kevin Pietersen feels he is "on the brink of a big score" for England in one-day cricket, no matter where he is batting in the order.
The Surrey batsman has made just one half-century - 59 against Ireland in the shock World Cup defeat in Bangalore earlier this year - in his last 12 ODI appearances.
Back then he was being used as an opening batsman, something that he admits he loved doing, alongside then skipper Andrew Strauss.
Instead it is now new captain Alastair Cook and wicketkeeper-batsman Craig Kieswetter who are being deployed at the top of the order in the current NatWest Series against Sri Lanka.
Strong possibility
"It's been abandoned, because we have a wicketkeeper that is opening the batting," Pietersen said of his role at the top of the order.
"If the wicketkeeper batted down the order there was a strong possibility that I might have stayed up top.
"But in terms of logistics and how fantastically Kiesy is playing in one-day cricket this summer and how good a player he is, there is no reason why he can't do that aggressive role really well.
"I loved it. I don't mind where I bat as long as I am playing."
Pietersen's last of his seven one-day centuries in international cricket came 30 innings ago during his brief reign as England captain.
However, the right-hander did look back to somewhere near his best during the third match against the Sri Lankans at Lord's on Sunday, cruising to 41 before falling for a third straight time to Jeevan Mendis' leg-spin.
"I feel 100% that I'm on the brink of a big score," he insisted.
"I've felt better and better. At Lord's, I felt fantastic.
"But the way that I play, looking to score and be aggressive and take the attack to the opposition, you are going to have good days and bad days.
"At the moment, the luck of the draw hasn't particularly helped me.
"I've just got to keep playing the way I play - and if the way I'm playing at the moment is anything to go by, I'm very happy."
Support
Pietersen is also making a point of lending his support to captain Cook, as England now have different leaders for each format of the game.
"It's different, because it has never been done before," the South African-born batsman added.
"But it's something the powers that be have made decisions on.
"It's so hard to do all three at once. The schedule we have, the amount we play, everything that goes with it ... wow, to do all three jobs would be very, very hard."