Change suits Broad
England's Stuart Broad said a change of approach was the reason for his return to form against India at Lord¿s.
Last Updated: 23/07/11 9:33pm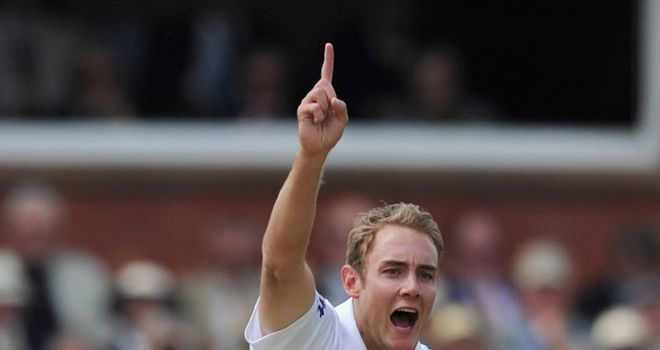 England paceman Stuart Broad said on Saturday that a change of approach was the reason for his return to form against India in the first Test at Lord's.
Broad produced his best spell of bowling since his Ashes-winning stint at the Oval in 2009, claiming figures of 4-37 to help England to a 193-run run lead at the end of day three.
He has hitherto been labouring for much of the summer, struggling for wickets and regularly dropping the ball too short and negating any swing.
Fast-bowling coach David Saker had hailed the seamer as England's "enforcer" - a description both team director Andy Flower and captain Andrew Strauss subsequently distanced themselves from.
Broad said he would still look to the bouncer when necessary but said that attacking the stumps rather than the ribcage was the reason for his success.
"I think it was quite obvious I bowled a fuller length today," he said.
"I think that worked, getting the batsmen driving, and that length can still hit the stumps on a pretty slow Lord's wicket. I'll obviously look to do that in the future as well.
"Within the changing room, everyone has always known I'm best when I pitch the ball up and get a little bit of movement.
"We all know within the changing room the way I bowled today is certainly the way to go but if we need to rough a batsman up I am more than happy to do that."
Broad said he had also been inspired by the desire to earn the final bowling spot for the match - one he won ahead of Tim Bresnan.
"As an international cricketer you are always under pressure, there are always guys who want your spot and that's a healthy thing," he said.
"What helped me this week was going back to play for Nottinghamshire last week, gaining the confidence of a five-wicket haul (against Somerset) and bowling at Trent Bridge which always encourages you to pitch the ball up and swing it.
"I felt in really good rhythm last week and brought that into today."
Natural
Broad's success came after Strauss opted to hand Chris Tremlett the new ball alongside James Anderson.
Broad has often performed better when used as a change bowler but has always been eager to have first chance at the openers.
Tremlett appears the ideal candidate for that job and Broad now appears ready to accept his natural role.
"Any bowler will tell you they want to take the new ball but when I look back at my past successes they've been as a first-change bowler," he added.
"Chris has deserved the new ball. He bowled fantastically in Australia and was man of the series against Sri Lanka. I do suit first-change at the moment but I will always be fighting for that new ball as well."