Anderson enjoying Sachin battle
James Anderson insists he hasn't got the measure of Sachin Tendulkar, despite dismissing him for a sixth time at Lord's.
Last Updated: 25/07/11 7:07pm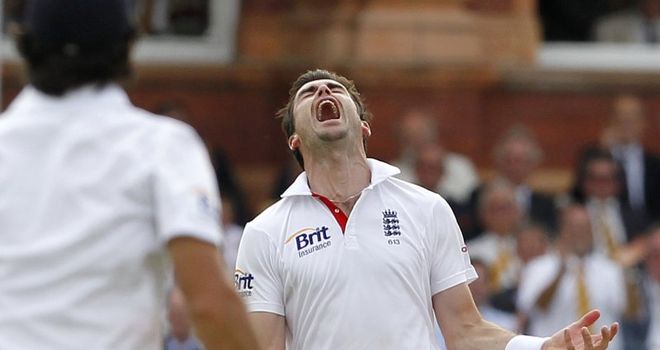 England pace bowler James Anderson insists he hasn't got the measure of India batsman Sachin Tendulkar, despite dismissing him for a sixth time in six Test matches at Lord's.
Right-armer Anderson once again led from the front for England with five wickets in the second innings, including the key scalp of Tendulkar on what could be the 'Little Master's" last Test appearance at the home of cricket.
His heroics helped England speed to a 196-run victory in the final session, an outcome which looked unlikely after India reached tea well-placed to save the Test on 218-5.
Anderson told Sky Sports: "We knew at the start of day it was going to be tough because the pitch was pretty flat but we knew if we probed around off stump...you never know what happens.
Happy
"We got a couple of edges and lbws and it turned out all right in the end. We knew there was something there for us.
"The second new ball did seem to swing a bit more but they're handmade so each one is very different to the rest."
On his dismissal of Tendulkar, the Lancashire paceman added: "I wouldn't say I've got the upper hand, there are three Tests to go.
"But we are really happy with the way things are going at the moment."
Fellow pace bowler Stuart Broad admits he wishes the Decision Review System was in place during the series, however he was delighted umpire Billy Bowden's not out decision on Suresh Raina did not come back to haunt the home side.
New Zealand official Bowden turned down what looked a stone dead lbw appeal on left-handed Raina with the match in the balance after tea, but England overcame the setback to wrap-up victory with 28.3 overs to spare.
Broad vindicated the England selectors' decision to pick him ahead of rival seamer Tim Bresnan with seven wickets in the match as well as a vital half-century in the second innings.
Pressure
But, he admits: "There are certainly times I wished the DRS was involved in this series - but we fortunately managed to pick up the 10 wickets.
"We're certainly entitled to ask the reason why it was not out...I thought Raina was pretty close.
"The first ball didn't swing for us but the second did a little bit more and we were in the game as soon as it came."
Broad added: "We set a target of five down at tea so we weren't panicking when we got spells without wickets.
"We applied the pressure all day and you can see the delight in the lads going 1-0 up in the series.
"We knew we'd bowled well at tea and created chances - we thought we were still in the game - and when we got the chances we took them."