Anderson right in the swing
England bowler James Anderson will treat Trent Bridge swing as a "bonus" in Friday's second npower Test against India.
Last Updated: 28/07/11 9:21am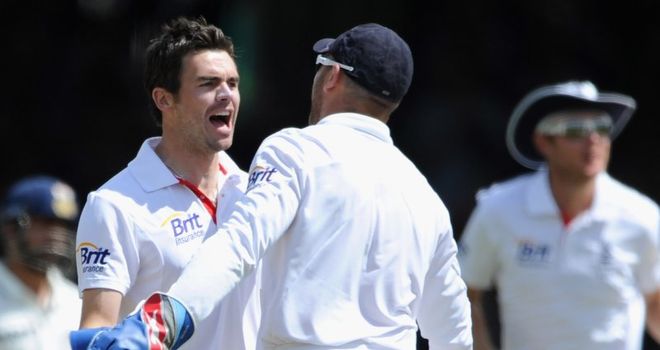 England bowler James Anderson will treat Trent Bridge swing as a "bonus" in Friday's second npower Test against India.
Anderson has an uncanny wicket-taking knack in Nottingham, where he recorded figures of 11 for 71 against Pakistan in last summer's Test victory.
He has also become his country's most prolific one-day international wicket-taker at a venue which clearly plays to his strengths.
But the 28-year-old is not taking it for granted that he will once again be able to get the ball to swing round corners, as England seek to follow up Lord's victory by doubling their series lead here against the world's number one-ranked Test team.
Potent
"It is helpful here when it swings and it generally does, but you can't go into a game expecting it to swing," he said.
"So we'll prepare as if it's not going to, and if it does that's a bonus."
Anderson, Stuart Broad and Chris Tremlett proved a potent fast-bowling mix against India at HQ. But Tremlett sat out training at Loughborough with a "tight" hamstring - and although England were expecting him to be able to bowl today, there was a possibility that Tim Bresnan might yet return to complete the seam attack.
Anderson is confident that it will make little difference, because England have all bases covered.
"I don't think it matters," he said.
"You saw Tim Bresnan do a good job of it in Australia - pretty much everyone who's stepped in over the last few years has done well.
"We've used six or seven bowlers over last few years, and we're used to playing with each other and spending time with each other.
"We do talk a lot about the game when we're not playing together, so I think it doesn't really matter who plays - we have got a good unit and a good strength in depth."
Anderson's five second-innings wickets in the first Test helped him go above England off-spinner Graeme Swann into second place in the International Cricket Council's bowling rankings.
Elevation
He is delighted to have usurped his team-mate but sees his own elevation merely as symptomatic of England's progression as they set their sights on India's number one Test status this summer.
Of his own world-beating pretensions, he said: "It's not as important as overtaking Swanny - that is what I was focused on!
"Our end goal as a team is to be number one in the world, and to do that we need individuals in the top 10.
"I'd love to be number one one day, but I've got a lot of work to do before then."
Whatever his ranking, Anderson is happy with his own bowling at present.
"In the first innings at Lord's I didn't bowl very well - I bowled a bit wide but did bowl a good length.
"I knew if I could hold my length and get my line better in the second innings I could cause some damage.
"The fact I could make that adjustment in the space of a couple of days really pleased me, and really showed me I'm in control of what I'm doing."
Like Tremlett, India's left-arm seamer Zaheer Khan is also hoping to prove his fitness after the hamstring strain he suffered at Lord's.