Tremlett trusted on decision
Andrew Strauss knows he can count on Chris Tremlett to make the right decision over his fitness for Trent Bridge.
Last Updated: 29/07/11 8:14am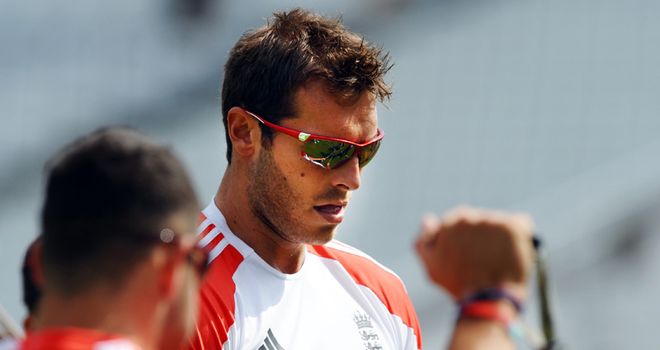 England captain Andrew Strauss knows he can count on Chris Tremlett doing the right thing when it comes to deciding his fitness for the second npower Test against India at Trent Bridge.
Tremlett cut a gingerly figure as he tried, twice, to test his hamstring 'niggle' in the Nottingham nets yesterday - after which the consensus among observers was that he was likely to be ruled out on Friday morning, in favour of Tim Bresnan.
Strauss baulked, however, at the suggestion Tremlett might be tempted to over-estimate his readiness as he continues to re-establish himself as a lynchpin of England's pace attack.
"I don't think that will come into it," he said. "I think like anyone you always recognise your responsibility to be honest about how you're feeling with your body.
"If you're not 100 per cent sure you can get through a game then it's important you say so.
"But the indications are pretty good at this stage."
Plan B
Strauss was looking on the bright side, before Tremlett's all too brief second attempt to prove his fitness.
Should England need to summon Plan B, though, Ashes-winner Bresnan is someone they know they can rely on.
"Tim Bresnan certainly hasn't let anyone down when he's played for us," said Strauss.
"He was outstanding in Australia, and I think he's just getting better and better.
"So in many ways he's unfortunate not to be playing at the moment.
"If he does come in he'll do a great job."
The captain is confident too that Tremlett's absence will not have an unwelcome knock-on effect on Stuart Broad.
The latter was a revelation in England's first Test victory at Lord's, finishing with match figures of 7-94.
There, he appeared to benefit from a new resolution to pitch the ball up - a virtue which ought to suit again, back on his home ground.
Strauss will not be directing Broad towards a rethink, even if he turns out to be the only 6ft 5in-plus bowler at England's disposal in this match.
Natural
"You always want bowlers to bowl or do what they naturally do," he said. "You don't want to force them to do something that's uncomfortable or unnatural for them.
"The basis for all our bowlers has been to bang out length consistently.
"When we've done that we've generally taken wickets.
"I don't think Tim Bresnan is any different on that. Chris Tremlett obviously comes from a slightly different trajectory. But they're all doing a similar role really."
Whoever takes the field, England can expect to come up against determined opponents.
India will be without Zaheer Khan, who has failed to recover from the hamstring injury he suffered at Lord's, and perhaps opener Gautam Gambhir - still struggling with a badly-bruised elbow.
But the world's number one Test team will not lack for motivation, 1-0 down with three to play against hosts hoping to topple them from their lofty perch this summer.