Bopara - I'm a better player
England batsman Ravi Bopara is determined to seize his opportunity when the third Test against India begins at Edgbaston.
Last Updated: 08/08/11 3:46pm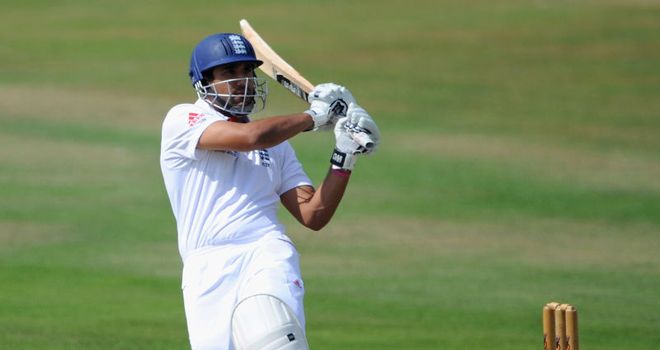 Recalled England batsman Ravi Bopara believes he has learnt a lot about his game over the last two years and is now determined to seize his opportunity when the third Test against India begins at Edgbaston.
The Essex right-hander will make his first Test appearance since August 2009 on Wednesday after a shoulder injury ruled Jonathan Trott out of his home Test.
Bopara, 26, joins an England team right at the top of their game and potentially on top of the world, should they overcome the injury-hit Indians in Birmingham.
He told Sky Sports News HD: "It's an ideal opportunity for me. I know it's come off the back of an injury to one of our main players but nevertheless it's an opportunity for me.
Fantastic
"I'm chuffed to bits that I've been given the opportunity and I can't wait to start on Wednesday.
"I'm coming into a great side. We're not No.1 yet, that's obviously the aim. It's a great team to play for, there's some great players and they've done a fantastic job."
Bopara averages a respectable 33.46 in 10 previous Tests but it may be his ability with the ball which has clinched his recall to the international arena.
After being comfortably outscored by James Taylor in last week's England Lions encounter with Sri Lanka 'A', many thought the Leicestershire Foxes man was in pole position to replace Trott.
However Bopara hopes his medium-pacers, as well as his runs, can pave the way to a lengthy run in the Test team.
"I've got to get runs, but wickets help too," he said. "That side to my game has definitely got me places but the main thing is to get runs, I want to get into the team as a batsman and let the rest take care of itself.
"I think I'm a more rounded player now, I know my game a little bit more - it's amazing what you can learn about yourself in two years.
"Just when you think you've got it cracked you suddenly realise that you haven't and you've got a lot to learn. I've learnt a lot over the last two years and I'm sure I've got a lot to learn over the next five-10 years.
"However long this stint is for I just want to go out and get runs.
Sparkling
"If you go in and do well you've got a chance of staying in the team, even if you do have a few hiccups down the line you know the selectors and coaches are going to back you to give you a few matches.
"We all have goals and in the back of my mind I'd love to play 10 years for England because that's where you want to prove yourself - at the top."
Bopara is expected to bat at No.5 with Ian Bell replacing Warwickshire team-mate Trott at three following his sparkling, if slightly controversial, century at Trent Bridge.
But the Essex all-rounder insists he still hasn't been told by coach Andy Flower exactly where he will be positioned in the top six.
"I don't know exactly where I'm going to bat, but whether I bat three, four, five or six my job is still to get runs for England," he added.
"Either way it's still a job and one I have to do well."