KP keen to rule the world
Kevin Pietersen believes England have "all departments covered" after becoming the No.1 Test side in the world.
Last Updated: 15/08/11 12:09am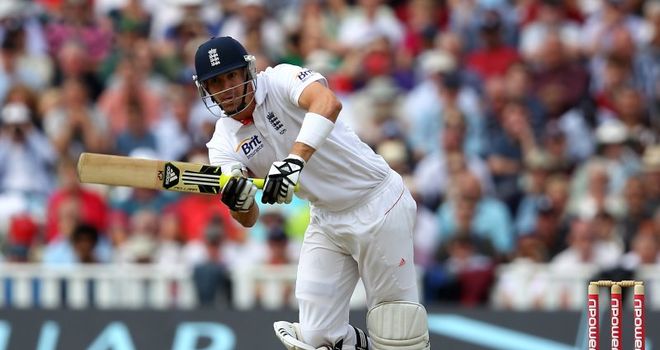 Kevin Pietersen is determined to help England become the dominant force in world cricket - starting with a clean sweep over India.
Andrew Strauss' side moved to the top of the International Cricket Council's Test rankings for the first time in their history on Saturday when they took an unassailable 3-0 lead over the tourists with victory at Edgbaston.
However Pietersen insists that the squad will not be resting on their laurels, with the target now being set to match the great Australia and West Indies sides of the past.
"When the great Australian and West Indian teams played for years and years they killed opposition," said the Surrey batsman.
"I played against that Australian team in 2006 in Australia; I promise you now, every day's play of those Test matches you weren't looking forward to it - because you knew you were going to get dealt with.
"That's what I hope we can do to opposition, but it's going to be tough."
England's first aim is to secure a 4-0 series win over India - the team they have just deposed at the top of the Test rankings - by triumphin in the final Test at the Oval, which is live on Sky Sports from Thursday.
Pietersen admits it is now a "huge target", particularly after he was on the wrong end of a sweep in the Ashes series of 2006/07 Down Under.
"That is a target - a huge target - because I played against Australia when we did get hammered, and it's a horrible to place to be," he added.
"If we can inflict a similar defeat on India it would be amazing for us."
Amazing
Pietersen also praised the management team for their part in helping the players in achieving their goal of becoming number one in the world.
"The team department is absolutely amazing, and all we need to do is continue that and not let it get affected by anything that happens or any success that is achieved," he said.
"I think we've proved that by winning in Australia (last winter) and then coming back to England and beating India in England.
"We've obviously got a lot of hard work we've still got to put in, and the good thing about this team is we'll put that in.
"We've got a real good structure in place and great people in place as well; the management and players - there's a lot of mature players.
"You look at the number of games people have played, you look at the number of hundreds we've scored, look at the wickets the boys have started to take.
"We actually look like one of the senior teams in world cricket right now - whereas two, three, four, five years ago there were a couple of players who were experienced but we had a lot of inexperience too.
"So I think we've got all departments covered."
The South African-born batsman also insists that it doesn't matter that the team aren't all best friends, adding: "You don't need friendships. As long as you're performing on the field, you don't have to love everybody in the team.
"In the great Australian sides and the West Indians, not everybody loved each other.
"I'm not saying none of us like each other - we actually very, very much like each other in the dressing-room, and there's no jealousy.
"The boys are so happy when someone does well."