England have no weakness - KP
Kevin Pietersen says England have no weak links and opponents may soon come to fear taking the world number one team.
Last Updated: 15/08/11 9:19am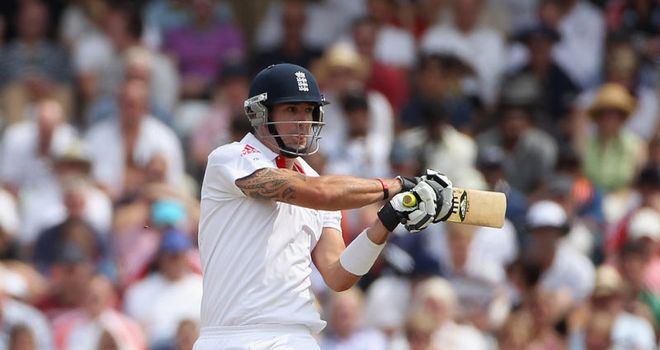 Kevin Pietersen says England have no weak links and opponents may soon come to fear taking on Andrew Strauss and his world number one team.
They named an unchanged squad for the fourth and final Test against India after crushing the tourists at Edgbaston to clinch top spot in the rankings.
And when Pietersen looks at the teamsheet he sees all-round strength that bodes well for the future.
"You look at that engine room - (from) Matty Prior down to number 10, those guys there can score 150 runs and take the game away from you - we've seen it a couple of times already in this series," he said.
"If we get ourselves into a bit of a hole at 120 for five or 80 for five we can still get 250-300 - and then back our bowlers to do the business."
Perfect balance
There is a fine line between confidence and complacency, and Pietersen is convinced England are striking the perfect balance.
"I think you've got a lot of experience and you've got guys who - it's wrong to say are certain of their places - but have done enough in this team to be sure of their own games," he said.
"They warrant being selected through a bad run of form, to keep getting the backing of selectors because they have done so well over the last however many years.
"When you have that confidence behind you as a player, you're not so worried about your place; you're really, really worried about doing your job well - and also if someone else does well, there's no jealousy."
That one-for-all mentality has been stressed over and over again by captain Strauss and coach Andy Flower throughout the past two-and-a-half years - and like his team-mates, Pietersen too is 'on message'.
"There's no jealousy in our dressing-room. If Cooky (Alastair Cook) does well, like he did in the last Test, it's absolutely amazing and you can feel it from me as a person to him - he knows I'm really ecstatic.
"When I hit a double-hundred two weeks ago I knew that everybody in that dressing-room was so happy for me. Belly [Ian Bell] at Nottingham, we know that everyone is so happy. Bressie (Tim Bresnan), when he comes in, Broady (Stuart Broad) turning games around this series as well, we're all personally so happy - because we're not worried about our own jobs."