Trott - I'm just doing my job
Jonathan Trott insists he will just keeping doing what is best for England after being criticised for his one-day batting style.
Last Updated: 26/08/11 10:58pm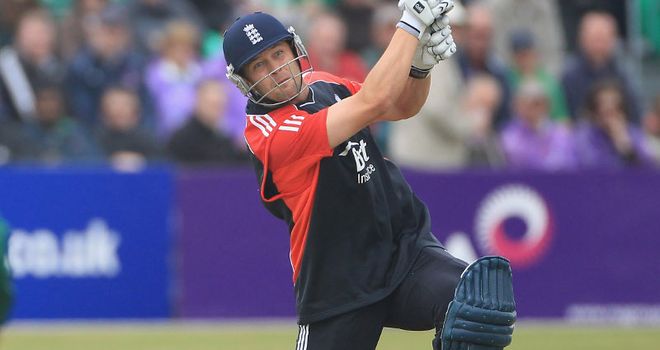 Jonathan Trott will just continue to do what is best for the England team after coming in for further criticism for his one-day batting style.
The Warwickshire right-hander top-scored in the one-dayer against Ireland on Thursday with 69, though it took him 104 balls to accumulate his runs.
Yet despite some claiming he doesn't score quickly enough Trott still averages 53 in 31 ODI appearances, including hitting three centuries.
He admits he did not hit the ropes as often as he would have liked in Dublin but is at ease with his role in the one-day line-up.
"It's the job the captain and coach want me to do so as long as I get it right I'm not bothered,'' said Trott.
"I go about my business and do what is best for the team. The way cricket is going now, the attention on it, there are a lot of people with a lot of opinions, but I'm not really fussed to be honest.
Cautious
"I hit a couple of balls that, a little bit to either way would have gone for boundaries rather than going straight to fielders so that is a bit disappointing. But on another day they would have been fours.
"I was perhaps a bit more cautious than I needed to be leading up to the powerplay but in the past we haven't done well enough at times in the powerplay, and those overs are really important.
"Maybe I could have done things a bit differently but it was really difficult, the ball was seaming and it was really, really tough for new batters. Somebody needed to be there.''
Trott certainly has a supporter in Eoin Morgan, who captained England against the country of his birth in Clontarf.
The left-hander - who looked much more fluent in making 59 in the 11-run victory - insists the rest of the top order are happy to bat around the South African-born batsman.
Trott himself is also unconcerned by questions over his methods, pointing to the fact that his efforts helped the side claim victory.
"We won the game, didn't we?," he continued.
"I've been in the one-day side for about two years now and we've only lost one series, in Australia. I think we've been pretty successful.
"That's the important thing, as long as I'm contributing to the side being successful."