Bresnan keen to lead England
Yorkshire all-rounder Tim Bresnan admits he would "love" the opportunity to captain his country.
Last Updated: 13/09/11 5:17pm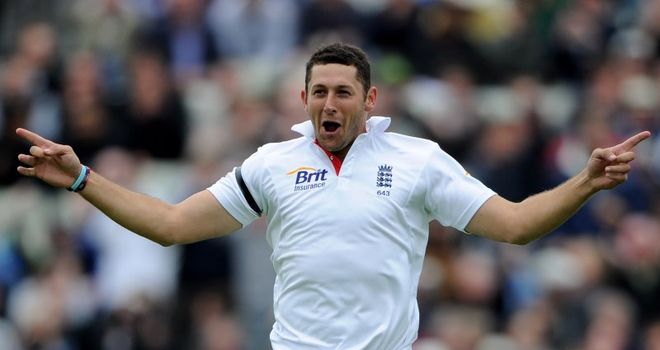 Yorkshire all-rounder Tim Bresnan believes he has all the attributes required to be a captain of England - and wants an opportunity to prove it.
Twenty20 skipper Stuart Broad is out of action with a shoulder injury and the selectors will announce on Wednesday who will lead the side against West Indies in two games next week.
One-day international captain Alastair Cook, off-spinner Graeme Swann and star batsman Kevin Pietersen are candidates, but 26-year-old Bresnan is keen that he is not overlooked.
"Definitely," said Bresnan when asked if he has any designs on the England captaincy - next week or at any stage in the future.
"It would be a massive honour to lead England out wherever it was, in whatever format of the game.
"I wouldn't turn it down. I'd love to do it."
Candidates
With Broad and official vice-captain Eoin Morgan both out with shoulder problems, and England employing a youth policy as they continue to build for the defence of their ICC World Twenty20 crown next year, there are only a small number of credible candidates to fill Broad's boots.
Bresnan believes he is one of them.
Only Swann and Pietersen have more Twenty20 caps than him among the likely current squad, and he can point to a winning record in each of his last nine matches in the shortest format for England.
Bresnan acknowledges he does not have a classic captain's CV - because, like Broad perhaps, he has spent much of his cricketing life as a precocious all-rounder always in the thick of the action and elevated to play with his seniors from a young age.
"I feel as though I'm experienced enough to know what's going on, what fields to set - so yes, I'd take it on," he added. "I've never really got chance to (captain much). They've always thought I had a lot on my plate, being an all-rounder.
"It was always the posh kids in the age groups that got to captain - not that big lad from a comp."
Whether he is in the ranks or in charge, Bresnan - one of three new recipients, along with Morgan and Chris Tremlett, of a full England deal when the latest 12-month contracts were announced today - expects England to prosper, even without the in-form Broad.
"We're going to need a new captain, whoever that may be.
"It will be disruptive. But in the England side at the minute, we have a marvellous knack of the 'Keep calm and carry on' mentality - not let it affect us too much - so we hope we can still churn out the same results."
Bresnan, who missed much of the first half of this summer with a stubborn calf injury, empathises with Broad - who discovered on Monday he will miss not only the two Twenty20s and this Friday's final NatWest Series match against India in Cardiff but the return one-day internationals away to the same opponents next month.
"The back-end of the summer he's had has been phenomenal - (Test match) man-of-the-series against India, and in the one-dayers he's a game-changer," Bresnan said of his England team-mate in all three formats.
"Since the middle of the summer he's been our talisman, leading from the front.
"He's been fantastic, and he will be badly missed. We wish him a speedy recovery.
"It will be frustrating for him, because it seemed as if though was in very good touch with bat and ball.
"I've been in that position myself. He must be gutted."
Broad's absence will be felt first at the SWALEC Stadium, where Bresnan took three for 10 in a Twenty20 against Pakistan a year ago.
Nominated
He was nominated in a 'performance of the year' category for those figures at Monday night's International Cricket Council awards dinner - which saw Cook and Jonathan Trott voted Test and overall players of the year respectively.
Back on the pitch, Bresnan makes it clear that, even though England have already wrapped up the NatWest Series after Sunday's dramatic Duckworth-Lewis tie, they are still highly-motivated to finish their season on a high in Wales.
Another victory would make it 3-0, to add to 4-0 and 1-0 scorelines against India in Tests and a one-off Twenty20 this summer.
"We still want to win that game, and we'll be trying everything to be able to do that," Bresnan said.
"There's no point turning up and just rolling over, even though the series is won.
"We want that 100 per cent record as well, which we got in the Tests. That would be fantastic."