Morgan backs young England
Eoin Morgan believes England's one-day team will be looking to make a statement on their one-day tour of India.
Last Updated: 07/10/11 10:08am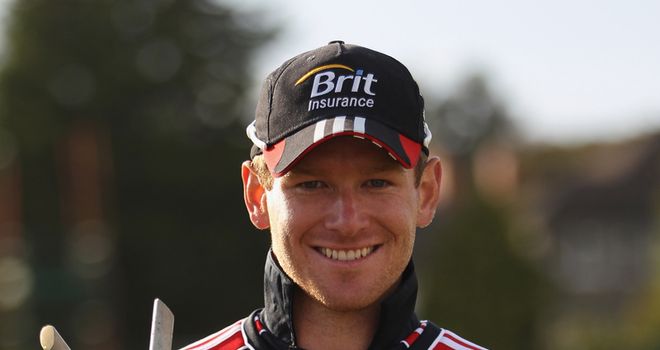 Eoin Morgan believes England's one-day team will be looking to make a statement on their one-day tour of India, while admitting he is enjoying Australia's demise in world cricket.
Morgan will miss England's trip to India after shoulder surgery, but he hopes Alastair Cook's young side can take on the world champions on home turf and make a big impression.
England thumped India at home in the Test and one-day formats to strengthen their position at the top of world cricket, and Morgan now says Cook's young team will be looking to make a big statement by impressing on the sub-continent.
"India is the place that you tour where you have to make that statement," Morgan told Blokely. "There are flat wickets where the ball doesn't really bounce and you have to be able to go over there with the attitude of whacking the ball out of the ground, have the intention of taking wickets - playing very positive cricket. They're a very difficult side to beat on home turf.
"I think we've managed to turn it around over the last couple of years. We've been able to dominate spinners during that middle period, and when we've done that we've won games. When we actually look to go after them and score boundaries, we play them really well."
Test team
Morgan has been cementing his place in the Test team after making his name in the one-day format, but he insists he has not been pleased with his performances before injury.
"There's definitely a lot of room for improvement, certainly in the Test format," he said. "I haven't been happy with my one-day performances for a while now - I've contributed here and there, but I haven't put in any dominant performances that I've shown in the past, which is a bit frustrating."
Despite being handed a central contract by England, Morgan does not feel like he is an automatic selection in the Test team with so much competition for places.
He added: "There's a lot of competition for places and certainly at my age (25), and my position within the side, it's always up for grabs, there'll always be people challenging for it. We've seen guys come in that have done well, who have age on their side.
"I bat in a position where it can go one way or the other, you're either rebuilding or in a position to change the game. You have to be good at judging situations and I think I'm getting better at that. I've always backed myself in competition."
Captains
England's three-captain system raised eyebrows amongst many, but Morgan believes that having different skippers for different formats helps those players, like himself, the play in all three forms.
He said: "I think where it's worked well is when you're playing each different formats, there's a line drawn under them - almost like a ceremony of handing over the captaincy from say Broady to Cooky, or whatever way it is, and then you go from there. All three are superb cricketers and hold a lot of respect from the camp."
Morgan thinks England's recent thrashing of India emulated Australia's performance when they whitewashed England in the 2006/7 Ashes series, so he is far from upset to see the Aussies struggling of late.
"A lot of the guys in our changing room were in Australia for the 5-0 drubbing and they said they were so deflated at the end of it, because the Aussies kept coming back harder and harder every time.," Morgan said.
"I think we did that throughout our summer - every time the Indians gave us a battle we came back harder, producing the goods every time. It was comparable to that series. It was complete dominance from lunch on the first day of first Test at Lord's. Every time they tried to come back, you put them down.
"I've followed England for years and they got beaten all over the place by the West Indies and Australia - I don't feel for them (Australia) at all! I've never been one to gloat, but I'm happy with where we are."
The full interview can be read in Blokely, www.blokely.com.