KP targets 2015 World Cup
Kevin Pietersen insists he is fully committed to playing for England's one-day side and has already set his sights on the 2015 World Cup.
Last Updated: 08/10/11 4:43pm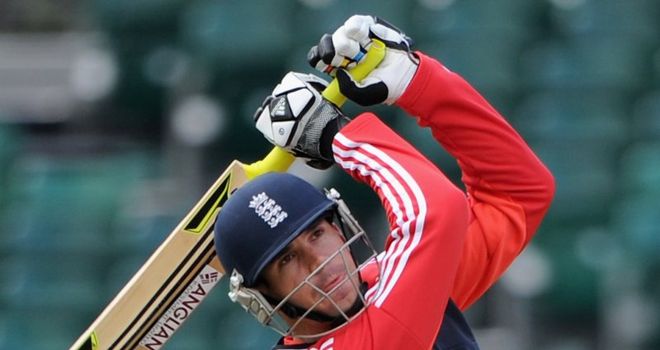 Kevin Pietersen insists he is fully committed to playing for England's one-day side and has already set his sights on the 2015 World Cup.
The 31-year-old has returned to the fold for England's current tour of India, having sat out last month's NatWest Series victory over the same opponents.
Pietersen was surprisingly prescribed a rest, having played a significant part in England's 4-0 npower Test series whitewash of India in the summer.
But he insists that he welcomed that offer, it has helped to recharge his batteries - and that he has no intention of quitting 50-over cricket in the foreseeable future.
Asked whether he retains his appetite for ODI cricket, he was unequivocal. "Yes I do.
"I don't know how many times I need to say it till you stop asking the questions.
"I want to continue playing until the 2015 World Cup, and then we'll reassess."
Enthusiasm
Pietersen is never in two minds about whether he wants to play for his adopted country, but does admit to slightly less enthusiasm these days for the training and practice he knows is vital.
"Look, I want to play all three forms of the game for England ... I've said that many times.
"It's a case of, when England are playing international cricket, I want to be there.
"But it was amazing not to do any of the practices and warm-ups.
"That's the first break I've had without an injury for England. It was much appreciated."
Pietersen found plenty to occupy him away, as he and his young family moved house last month.
"I was quite busy, doing bits and bobs.
"But it was great to jump back on the plane, and be back in the fold again."
He had no qualms when the England management suggested he miss the NatWest Series, but did make a point of watching as little of it as possible on television.
"I understood the reasons. I didn't watch much; I wanted to take a complete break, and get that bug back for training.
"The hardest part of playing all three forms of the game is turning up on training day and doing warm-ups - I think it takes a couple of years off your career.
"To not have to turn up to training days was an absolute blessing. But you do miss the cricket, participating and competing - because we're all competitors."
As for keeping the TV switched off, he added: "It was deliberate. I didn't want to watch it - I wanted to get that little buzz, hunger back for actually turning up."
The signs are that he has benefited from his short break, and he is ready to battle for his place in a developing team.
"It's nice to be back doing some hard work.
"There's a lot of competition for places. The strength in depth of English cricket continues to grow.
"I think it (the rest period) was sensible. It's a policy the ECB now follow - players like (Andrew) Strauss, Jimmy (Anderson), Broady (Stuart Broad) to a certain extent.
"I think it's definitely needed, and I think it came at the right time.
"I think it's something everybody needs to do to keep our squad fresh and get everybody experienced in playing in different conditions."
Pietersen does not believe he, or anyone else, should be inked into the team.
"What will be will be.
Permutations
"No one's ever guaranteed their place - for their country, for their county, for their club side.
"There's a lot of different permutations and different things that can happen.
"It's just a case of enjoying every day, and also realising how fortunate we are.
"If there's any place you want to come and play one-day international cricket, it's here in India.
"For the youngsters it's brilliant, and for us old men it's great to be back - it re-energises you."
Pietersen practised with strapping on his painful left wrist, an extra reason England thought a month off might be appropriate.
There still does not appear to be an obvious diagnosis for the discomfort, but Pietersen is confident it is a minor problem which he and England's medical staff can manage.
"I've got something in my wrist," he said.
"I had a cortisone injection a few days ago, and cortisone just before I left.
"It's just a case of getting through this tour and seeing where we are at the end."
Scott Borthwick and Steven Finn have recovered from stomach upsets, and England will have a full squad to pick from - apart from Craig Kieswetter, still involved in the Champions League with Somerset.