Swann book 'not a good idea'
England coach Andy Flower feels Graeme Swann's book was "not a good idea".
Last Updated: 15/10/11 6:54pm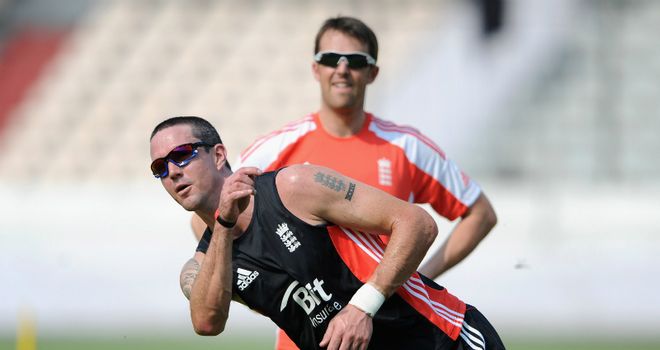 England coach Andy Flower feels Graeme Swann's book was "not a good idea".
The former Zimbabwe batsman has had his say on the matter which has seen much focus fall on two of his star players during the current tour of India.
Swann's autobiography, serialised last week, contained a series of personal opinions about his fellow internationals - including his contention that Pietersen was a bad choice as England captain in 2008 and 2009.
Asked whether he believes players should have to wait until after their careers are over to air such revelations in print, Flower said: "That's my personal opinion, yes.
"I personally don't think that it's a good idea for current players to be talking about their fellow players.
"The written word does come across very, very differently - when you can't judge a person's tone - and particularly with Swann's words, that is an accurate and important point."
However, speaking after England's heavy defeat in the first of five one-day internationals on Friday, Flower insisted England's renowned team spirit had not been damaged.
Maturely
"It's all been handled in-house - without many problems," he said.
"Pietersen and Swann get on well, and I think Pietersen has handled it very maturely."
Pietersen's form has also been under scrutiny of late, for while he has rediscovered his best form in Tests and Twenty20s over the past 18 months, he has mustered only two 50s in his last 31 ODI innings.
But Flower backed the batsman, brought back into the side in place of Ian Bell in Hyderabad, saying: "He is actually in very good form.
"His form in other formats during the last English summer was outstanding.
"He should be able to get runs out here, and I expect him to."
Flower retains faith too in England's prospects of recovering their composure in time to turn the series around.
"This group of England cricketers has shown they are of strong character, and I expect us to bounce back," he added.
"We were outplayed by the Indians on this occasion. They out-fielded us - something that doesn't often happen to us - and we didn't deserve to win the game.
"But one down in a five-match series, we're going to look to do something about that in Delhi (on Monday)."