Bresnan - Room to improve
Tim Bresnan believes England can be proud of their year despite struggling in the one-day series in India.
Last Updated: 30/10/11 3:00pm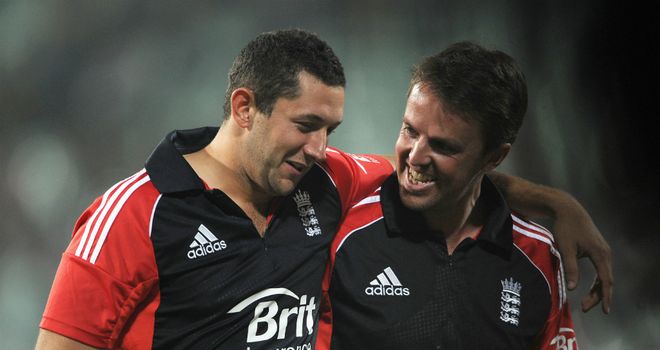 England ended their rollercoaster 2011 back on a small upward curve and remain rightly proud of what has been mostly a year of outstanding achievement.
Victory was badly needed in Saturday night's one-off Twenty20 in Kolkata, to avoid a seven-match losing run which would have been an inappropriately dispiriting way for England to sign off for the next two months.
The Test and Twenty20 world number one team still know they have a worrying blind spot when it comes to 50-over cricket - especially in the subcontinent, as India mercilessly exposed in this month's unexpected 5-0 drubbing.
It was hardly a one-off either, as England's stuttering World Cup campaign in these conditions last spring - and their 6-1 post-Ashes hammering in Australia at the start of the year - both demonstrate.
Relief
Even so, as they drew breath from a 45-match odyssey completed in winning style thanks largely to Kevin Pietersen in a six-wicket stroll at Eden Gardens, there was still satisfaction at a job largely well done to accompany the relief at finally rediscovering how to win.
Pietersen and stand-in Twenty20 captain Graeme Swann are two of only three players who were present in England colours at the very beginning and the very end.
The other who helped to clinch the Ashes so memorably in Australia - for the first time in almost a quarter-of-a-century - and then salvage some pride again in Kolkata, was Tim Bresnan.
The Yorkshire seamer missed some gigs in between, because of a calf injury, but along with perhaps only Swann is one of England's constants in all formats.
Bresnan knows the last month has taught England, cruelly at times, that they are not universal masters of a game with many facets; but he knows as well they have still done rather well on the whole.
"To be number one in the world in two out of three competitions ... we're not in a bad place, are we, really?" Bresnan asked. "Test match cricket is the pinnacle of the sport.
"The way we've played our cricket over this year is fantastic, but we're still looking to improve in any way we can."
Memories of that one-day international whitewash might have been soothed slightly while Pietersen was smashing India to all parts of their own hallowed turf yesterday, but they will fade more significantly only if England can prove to themselves and others that they have learned the lessons required.
"It was certainly upsetting, the 5-0 defeat, especially the way we lost the other night [when England lost all 10 wickets for 47 runs in the final ODI in Kolkata]," said Bresnan.
"It's been tough. We knew it was going to be tough, and we've got a lot of improvement to make in subcontinental conditions - there's no doubt about that."
England's problems mostly stemmed from a collective inability to deal even adequately with India's spinners.
"I think the bowlers have generally bowled quite well. We've just been let down with a few low scores," added Bresnan.
"I'm quite happy with the way I've performed. It's not easy out there, and I've come away with decent figures in most of the games.
"We've got a lot of young players in there. It's an experience thing, and you can't teach experience."
Conditions
When England return to the field early next year it will be initially in their specialist subject of Test cricket. But it will also be in Asia - the Middle East against Pakistan this time - so they know once again they will need to crack the conditions.
They will have a better chance of doing so after the rest they have been allocated.
"We know that's going to be a tough series as well," said Bresnan. "It won't be quite subcontinental like it is in India. But you'll get the dry, docile wickets - so we've got to put a plan in place to get the results we need out there.
"The last year has been quite intense for us. We had the Ashes at the start, a long summer and now out here, so I think the lads will be looking forward to a break."
It will be a chance, among other things, for Bresnan and others to reflect properly on what they have achieved and what they can still achieve.
England's Ashes success will always be a treasured memory. But for Bresnan, the unique trophy sent to London in August by the International Cricket Council for the new Test world-beaters is a quirky 2011 highlight as well.
Asked for his favourite moment of the year, he said: "I would (have to) pick the Ashes.
"But then getting that massive big 'mace' thing for being number one in the world - and parading it around The Oval - I thought that was pretty good.
"We've had a lot of good times. It's been an unbelievable year."