Miller - Sussex helped Monty
England national selector Geoff Miller believes Monty Panesar is a changed man since his move south to Sussex.
Last Updated: 11/12/11 4:51pm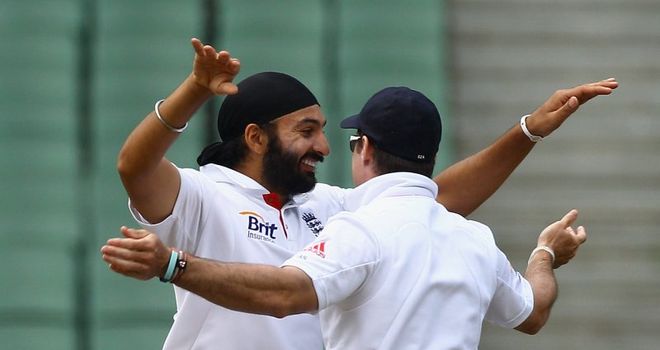 England believe Monty Panesar is a changed man since his move south to Sussex.
Panesar, recalled to the England reckoning yesterday in a 16-man Test squad to face Pakistan in the United Arab Emirates in January, has been giving selectors and management all the right signals.
The 29-year-old's name is therefore in the frame again, as it was for last winter's successful Ashes tour - on which he played in just a single tour match, against Australia A in Hobart, before hostilities began in earnest.
Graeme Swann's standing as the world's leading slow bowler meant Panesar's left-arm orthodox was surplus to requirements, and he has not featured in an international match since his 39th Test cap against Australia at Cardiff in 2009.
Panesar has more obvious prospects of competitive action this time as a possible spin partner for Swann in conditions expected to favour both.
National selector Geoff Miller senses Panesar's switch of counties, two years ago, from Northamptonshire to the south coast has helped him mature - and regain some of his best form.
Improved
"He improved and did really well over the past year," said Miller.
"He got 60 odd wickets for Sussex. He was back to what Monty was just before he was left out.
"He's bowling well, was part of the last tour (to Australia) - and there's no need to go in another direction at the moment.
"I do think the move to Sussex helped - a change of scenery, change of determination probably and a change of responsibility."
Panesar's presence is one of the reasons there is no place yet in world-beating England's Test plans for Nottinghamshire all-rounder Samit Patel.
While Panesar's fielding, and cricketing nous, has been seen as an issue in the past by some, Patel's problem during a two-and-a-half-year hiatus in his international career was his general level of fitness.
Patel returned to the limited-overs fray last summer and Miller insists the Nottinghamshire player's attitude to training is no longer a barrier to future progress.
"It's nothing to do with fitness reasons," he said of the uncapped Patel's omission.
"Samit has made a lot of effort in that department.
"He's listened to what we said, that he wouldn't be selected unless he did something about it, so he went away and did something about it - which is excellent.
"It was done, because we just felt at this stage it was the spinner which was required - and Monty's the best spinner."