Bresnan misses tour opener
Andrew Strauss confirmed England will be without Tim Bresnan for their first match in the United Arab Emirates.
Last Updated: 06/01/12 3:32pm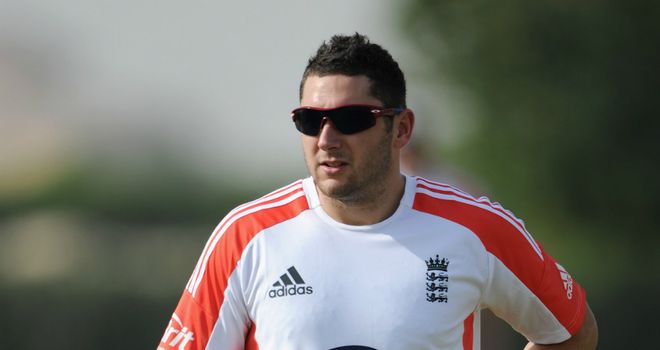 England will be without Tim Bresnan, and possibly Chris Tremlett, for their first match of their UAE tour on Saturday.
Andrew Strauss' team have made great virtue of consistency of selection on their ascent to the top of the International Cricket Council's world Test rankings.
It therefore seemed entirely as it should be that, when they step out on Saturday at Dubai Sports City's GCA ground against an ICC Combined XI 12 months to the day after their victory in Sydney, they could expect all but two of last year's Ashes stars to be present.
That, though, was before confirmation seamer Bresnan would not be available for the first of two warm-up fixtures before the opening Test in a three-match series against Pakistan.
Surgery
Bresnan has experienced discomfort in his right elbow following surgery a month ago. His absence might have opened the door for Tremlett to make it nine out of the Sydney XI after all, but he too may have to sit out the three-day match because of an eye infection.
It is nonetheless testament to England's world-beating status that three men not involved in administering the final blows against Australia a year ago will hardly weaken the team.
Stuart Broad, injured this time last year, Eoin Morgan and Steve Finn are likely to replace Tremlett, the retired Paul Collingwood and Bresnan.
Even so, Strauss acknowledges the minor inconvenience at least of having to get by without Bresnan.
"In an ideal world, he'd be ready by now," he said.
"But as is always the case with operations, you can't be 100 per cent sure how the recuperation is going to go."
The key date now for Bresnan is next Wednesday, when England face a Pakistan Cricket Board XI - with the first Test looming on January 17.
In the meantime, he must watch the likes of Finn try to jump above him in the England pecking order.
Strauss does not entirely subscribe to the theory that Bresnan must play against the PCB XI to be involved at the start of the Test series, but it will be at odds with England's meticulous preparation to thrust him straight in without match practice.
Optimistic
"We're very optimistic, because it's certainly shown a lot of signs of calming down," the captain said of Bresnan's injury.
"We hope he'll be able to play in that second warm-up game.
"I wouldn't rule anything in or out, but it will obviously be quite important he gets a lot of bowling under his belt to prove he's okay - whether that's on or off the field."
Before then, Tremlett, who might still have got the nod ahead of Finn in a three-man seam attack, seems likely to miss his chance.
"We'll probably just wait and see how he is a bit later on," added Strauss.
"But at this stage, we've got to take a slightly precautionary route on these sorts of things and thankfully we've got some fairly strong bowling resources."