Pakistan on brink admits Cook
England are facing a series whitewash at the hands of Pakistan, Alastair Cook admitted at the end of day two in Dubai.
Last Updated: 06/02/12 11:47am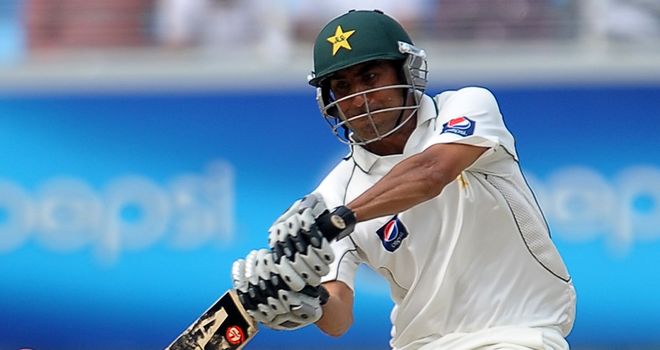 England are facing a series whitewash at the hands of Pakistan, Alastair Cook admitted at the end of the second day of the third Test in Dubai.
Younus Khan (115 not out) and Azhar Ali (75 not out) enjoyed an unbroken stand of 194, as Pakistan built an ominous lead of 180 runs, finishing on 222-2 at stumps.
Speaking after the close of play Cook said the partnership had all but put the game out of England's reach following what he described as a tough day's cricket.
"It was a tough day," Cook told Sky Sports. "That partnership has really taken the game away from us.
"When they came in they were still behind us. The pitch has obviously changed from yesterday but they played well. I think it's got slower and it made it a hard day for us.
"Yesterday was a strange day with so many wickets to fall but it's disappointing to be on the end of it.
Fantastic
"[Khan] played a fantastic innings there. He took the attack to the bowlers and didn't let them settle. We tried a lot of things to try and knock him out of that rhythm but he played really well.
"Obviously we want to keep their score as low as possible. The new ball is coming tomorrow so we'll try to grab an early one tomorrow and break the partnership as soon as we can.
"There's enough quality in our dressing room and there's some quality guys who can stand up. These guys have shown that once you get in it gets easier."
Despite the bleak outlook heading into day three however, Cook insists that he and his fellow England players will not give up fighting.
"If we sit here when we turn up tomorrow and say 'well, we've lost this game already' then we might as well give Pakistan victory right now," he said.
"If we're thinking that in our dressing room, we might as well just not bother turning up.
Angry
"It will take some serious guts to drag ourselves out of this. But there are some bloody good players in that dressing room, and I hope we can stand up."
"We all know we're a very long way behind in this game. When we do get round to batting again - we've had our struggles on this tour - it's going to take some serious character from the top six to turn it around.
"Anything is possible, but it's going to take a lot of mental toughness to deliver it.
"I know we've got the players in there. But there's only so many times you can keep saying that - we're going to have to get out there and do it."
Younus said he had been determined to avenge his soft dismissal on Friday - chasing a wide delivery from Stuart Broad in Pakistan's first innings 99 all out.
"I was very angry with how I got out in the first innings," he said. "So I changed my mind and played more positively."
But, despite carving out a considerable advantage for his side, the batsman insisted he would not become complacent against the world's top Test side.
"They tried their best, but at the moment we have the edge on them," he added. "England have fantastic players, and are number one.
"It won't be easy for us, so there could be a fightback. But they will need some luck."