Fitness first for Tremlett
Paceman Chris Tremlett admitted to Sky Sports that he is going to have to "work hard" to get back in England's Test team.
Last Updated: 09/03/12 2:44pm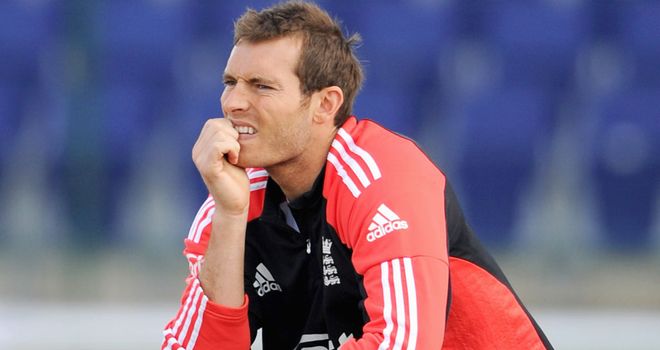 Chris Tremlett is only focused on getting his body right and playing well for Surrey as he looks to put his injury problems of the last year behind him.
The paceman underwent back surgery in February after a bulging disk forced him to fly home early from England's tour of the United Arab Emirates.
The 30-year-old did play in the opening Test against Pakistan in Dubai - his first appearance since featuring against India at Lord's in July - before a reoccurrence of a previous injury ruled him out of the rest of the trip.
It was decided an operation was the best course of action and, after going under the knife, Tremlett is now looking forward to playing again, although he knows it will be tough to force his way back into the international fold.
"I've played well for England in the last couple of years but it's obviously a setback when you have an injury and you're out for a long period of time," he told Sky Sports.
"I've only played one Test match in the last six or seven months. Naturally I'm going to have to work hard to get back in.
Competition
"I'm back here with Surrey now and I'm working hard to play for them.
"I'm not thinking too much about playing for England at the moment, it's just about getting back playing with Surrey, getting my body right and getting some overs under my belt and proving that I can get back to the form I showed last year and also during the Ashes."
Tremlett played just three home Tests last summer after a successful Ashes campaign that saw the former Hampshire player take 17 wickets in three matches, helping the tourists seal a 3-1 series triumph Down Under.
He will now miss England's tour to Sri Lanka, meaning the likes of Steve Finn - who was hugely impressive during the one-day series against Pakistan - and the fit-again Tim Bresnan will get the chance to jump ahead of him in the lengthy queue for seam-bowling berths.
"It was frustrating," Tremlett continued. "I did work hard before the Dubai trip and leading up to the Test matches it was fine. I was having more problems with my eyes than my back.
"Unfortunately, however, after that first game in Dubai I did have a reoccurrence and I had to come home, which was disappointing.
"I'm looking forward now and feeling positive. I don't feel there will be another reoccurrence if I work hard and get my body in shape."