Pietersen defends IPL remarks
Kevin Pietersen has played down comments in which he cited 'jealousy' as the reason for antipathy towards the IPL in England.
Last Updated: 12/04/12 3:26pm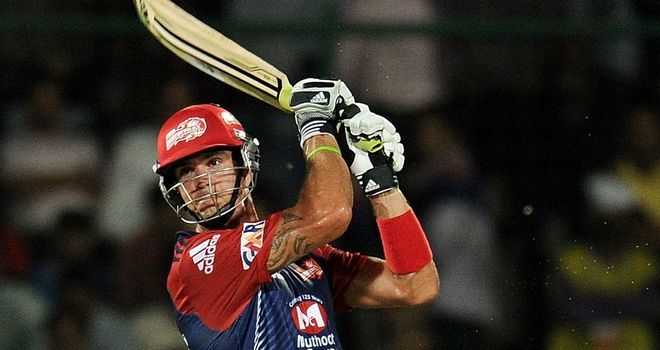 Kevin Pietersen admits he would love to see more English players in the Indian Premier League and has moved to play down comments in which he was reported to have cited "jealousy" as the reason for antipathy towards the competition in England.
Pietersen - who is currently turning out for the Delhi Daredevils in the latest edition of the tournament - believes the IPL would prove a beneficial experience for his international team-mates whether in terms of experience for Test cricket or the limited-overs formats.
However, he sparked controversy on Thursday after telling reporters in India that "jealousy" was one of the main reasons the tournament had received unfavourable coverage in some quarters of the UK media.
"The IPL is very much struggling to find acceptance back home," Pietersen was quoted as saying. "It saddens me because I have had an amazing time at the IPL.
"It's down to a lot of jealousy I think, which is sad. It saddens me, all the negative publicity the IPL gets in the (UK) media, I don't know why."
In an interview with CNN-IBN, he continued: "I think there should be a window for the IPL to take place because it's a magnificent tournament.
"There's lot of money issues, that I think is what dampens it in England. People think that it's just a money-making racket for individuals but so what? That's just the way it is. Sportsmen get paid. What are you going to do about it?
"And actually, to come over here and play against a guy like Mahela (Jayawardene) on a Saturday and to bat with somebody like Mahela on a Tuesday and bat with a Virender Sehwag... I mean, come on, it's a great experience.
Hectic schedule
"For the international players, we love it as well. It's actually quite a release from our international hectic, pressurised schedule.
"I think it's a fantastic contest. It saddens me when I read negative publicity of the IPL in England."
On the dearth of English players participating in the competition, he continued: "Playing another month in the subcontinent honing my skills, training with the spinners and practising, I consider myself so very fortunate.
"I'd love to see more English players available for... well not only available, I would love to see them picked up because I also see some of the games being played at the moment and I just think... man, up here would have been lot better if the Andersons, Bresnans and Boparas were involved in the IPL.
"The guys like Bell, you've got world-class players who are sitting in England now wanting to play the IPL when you've got some second-rate Australians getting gigs here.
"So for me, it's sad that I don't have fellow team-mates playing in the IPL and embarking on a magnificent journey here in the subcontinent and it'll help English cricket as well."
While his comments about 'jealousy' stole most of the headlines on Thursday, Pietersen insisted the overriding point he was trying to get across revolved around English players being unable to gain further experience of playing in competitive conditions in India.
He took to Twitter to vent his frustration, posting: "The whole theme for the press I did yesterday was to say how sad I was that NO other ENG player was here to experience this brilliant competition.. Especially as we have 4 Tests & 7 ODI's here in India next winter... READ THE QUOTES!!!!!!!!!!!!"