Flower - Rotation is the future
England coach Andy Flower has defended the decision to rest James Anderson for the final Test against West Indies.
Last Updated: 05/06/12 7:28pm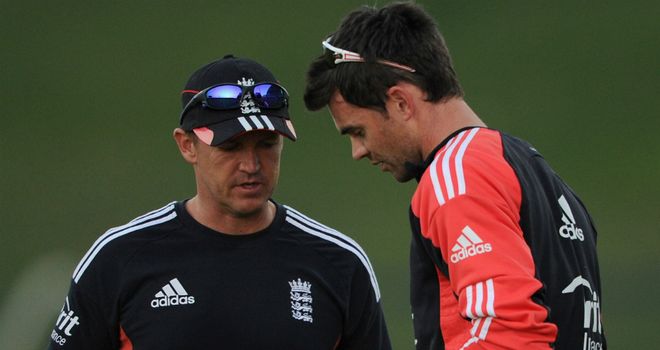 England coach Andy Flower has defended the decision to rest James Anderson for the final Test against West Indies, starting at Edgbaston on Thursday.
With the three-match series already secured after back-to-back successes at Lord's and Trent Bridge, seam bowler Anderson - who claimed nine wickets in those two wins - has been given a short break.
England's selectors believe that they are protecting a prize asset - with a packed schedule to come - by resting Anderson, who finished last week's Trent Bridge Test nursing a minor thigh injury.
Flower insists it will prove to England and Anderson's advantage in the long-term.
"We came into this series with one goal, and that was to win the series," he said.
"We've achieved that goal, so obviously our priorities do shift.
"I'm not intending to demean the importance of this Test - but since we won the series already, our priority does now shift to the South Africa series.
"If it had been 1-1 going into this third Test, Jimmy would have played.
"He is not badly injured and he could play this Test match if we wanted him to."
Target
Flower, likening the management of thoroughbred seamer Anderson to the training of a valuable racehorse, added: "The days of us playing our players until they either wear down significantly or snap physically or mentally, those days are over.
"We think it our responsibility to manage things better than that. Our duty is to make decisions in their interests and the interests of the team.
"When I was thinking of a few comparisons to make I thought of 'would you enter your prize horse in every race through the year?'
"You wouldn't - you would target the races you want to win. We've won this race already.
"These types of decisions are made for the good of the team, but also they will extend the careers of bowlers like Anderson.
"I perfectly understand the reasons why he is disappointed...I would be surprised if he felt any different...but it is beneficial to him in the long run.
"Over the next couple of years the schedule is incredibly heavy - so it is not only going to be Anderson, (Stuart) Broad, (Tim) Bresnan who are going to be our bowlers used.
"It would be crazy and naive to think so."
In Anderson's absence, Steven Finn and Graham Onions have both been included in England's 12-man squad for Edgbaston.