KP absence delights Clarke
Michael Clarke admits he is "thrilled" that Kevin Pietersen will not be in the England team when the two sides meet in the one-dayers.
Last Updated: 14/06/12 12:59pm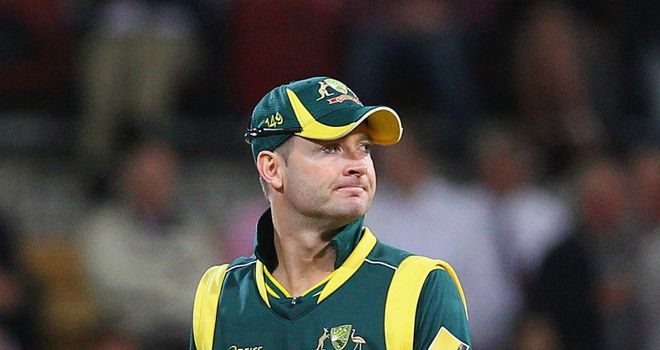 Australia's captain Michael Clarke admits he is "thrilled" that Kevin Pietersen will not be in the England one-day team when the two sides clash later this summer.
Australia departed for their one-day tour of the United Kingdom on Thursday, where they will contest a five-match series with an England side weakened by Pietersen's recent retirement.
The England right-hander, who scored nine centuries and averaged 41.84 in 127 ODIs, has opted to play solely Tests due to the demands of the current international schedule and Clarke admits his absence comes as a huge boost for Australia.
He said: "I'm surprised that he retired from the shorter form of the game, because of how good he is. And he's only 31 years of age.
"Obviously the ECB has different rules to Australian players in regards to our contracts - I'm not part of the T20 team but I'm still eligible to play one-day cricket and vice-versa.
Talent
"As an opposition player to Kevin Pietersen, I'm thrilled I don't have to play against him in one-day cricket because he's such a good player. He's had a lot of success and he's a match-winner.
"But England have a lot of good players in their team, they enjoy the shorter form of the game, they've got some good talent coming through and they're running high with confidence after just beating West Indies (in the Tests)."
Clarke believes the upcoming one-day tour of England will be valuable preparation for next year's Ashes, where Australia will look to regain the urn after two successive series defeats against their great rivals.
The tour offers young pace bowlers such as Pat Cummins and James Pattinson the chance to familiarise themselves with seam-friendly English conditions at venues they may grace during the 2013 Ashes.
"It is important they get some cricket in English conditions, whether that's with the one-day team or they stay on with the Australia A team and play a couple of those games," Clarke added.
"But I think just being in England, seeing what conditions are like, if they get an opportunity (they should) grab it with both hands.
"The Ashes is a long way from my mind right now. But any opportunity you get to play in the same conditions as you're going to play in 12 or 15 months' time can only be good for a team.
"I think a lot of guys involved in this one-day squad have a big chance of being part of the Ashes team in 12 months' time. I think it's really important we get as accustomed to those conditions as we can and have some success over there."