Cook to serve up response
Alastair Cook insists England are better equipped to deal with their innings defeat by South Africa than in the past.
Last Updated: 30/07/12 7:54am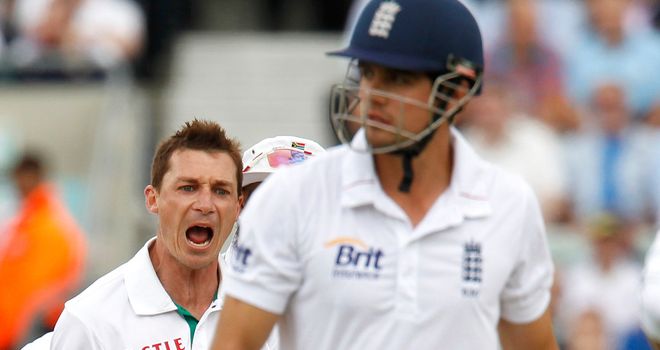 Alastair Cook insists England are better equipped to deal with their innings defeat by South Africa than in the past.
Another victory for the Proteas in the second Test at Headingley will see Graeme Smith's men clinch the series and replace England at the summit of the world rankings.
The emphatic result at the Oval prompted behind-closed-doors talks between England's players and coaches and Cook insists the team has the belief they can haul themselves back into contention.
"It's not difficult to pick yourselves up after a loss like that, but it's clearly not a nice experience," he said.
Amazing
"In previous years maybe, for example when we went to Australia and lost 5-0, that was slightly different because we knew we weren't good enough to beat Australia.
"But with what this England side has achieved over the last few years, we know we can beat South Africa and we have the players to do that, it's a different mentality.
"It would be an amazing achievement to beat a side like South Africa and it is certainly not out of the question.
"I know it is all doom and gloom now but we all know how things can happen in Test cricket. We have just got to make sure we steel ourselves for fighting for those five days."
Cook is demanding a response from England as they seek to improve a record of five defeats in the last nine Tests.
The second Test gets under way in Leeds on August 2 and England's opener is under no illusions over the size of the task ahead.
"Clearly it hurts when you get beaten like that. It's probably one of the heaviest defeats I've had in my career. It does hurt you," he said.
"When we play well we're probably not as good a side as everyone says, and when we play badly we don't just become a bad side.
"We have some outstanding cricketers in our dressing room but we must play closer to our potential.
"We had the meetings after the game so that we can go to Headingley with a clean slate. We didn't want to go to Headingley and drag up what had happened at the Oval.
"As a side heavy defeats have normally spurred us on to play better in the next game. We have to do that if we want to get back in the series."
Confidence
Pace bowler James Anderson suggested that England are suffering amid the pressure of being the world's top Test team.
Cook, however, insists the decline in performance levels has more to do with a drop in the high standards set while climbing the rankings.
"It's always that thing about the hunted and the hunter, but I don't think it has created pressure," he said.
"While getting to number one we hit standards with people averaging 100 and people picking up wickets for fun.
"It was probably impossible to maintain those standards and we had a little bit of a dip and that has shown in our results.
"I don't put that down to the pressure of being number one at all. We don't ever think we are the best team in the world. We don't talk about that as a side.
"We have got a lot of confidence from knowing we can beat sides - that has come. If you look through the team we have got a lot of people with a lot of experience.
"We have been through a lot of different situations as a side and we know how to deal with them. That breeds confidence but we never walk around that dressing room thinking we have made it.
"We are working as hard now as we were when we were number five."