KP casts doubt on future
Kevin Pietersen has said he "cannot give any assurances" the third Test against South Africa will not be his last for England.
Last Updated: 09/08/12 12:05pm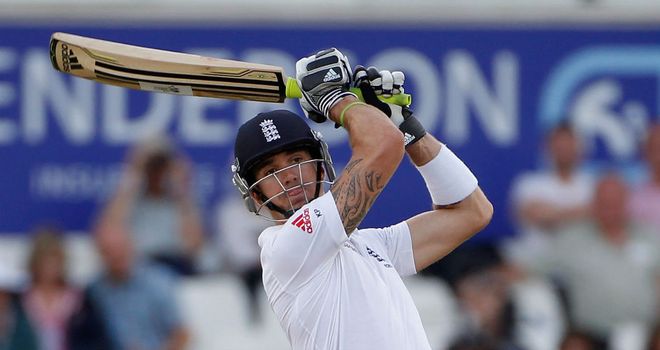 England batsman Kevin Pietersen says there are "obstacles" which have to be overcome in order for him to continue his international career beyond the third Test against South Africa.
Pietersen scored 149 in the first innings of the second Test against South Africa at Headingley and took three wickets in the tourists' reply.
However, when asked after the drawn game to give an assurance that he would play beyond the third Test at Lord's, the 32-year-old said: "No, I can't give assurances. All will be discussed and we'll see what happens.
"There are obstacles and I'll decide what happens at the end of the next Test."
Pietersen ended his limited-overs career for England when he announced his shock retirement from the shorter formats of international cricket earlier this summer.
However, he then revealed he would "love to play for another three or four years in all forms of cricket" and admitted he was in talks with the ECB to reverse his decision to quit.
Not about money
Many have portrayed his gripes as financially-orientated, but he denies those suggestions.
"It's absolutely 100 percent not about money. This is not a money issue," he said.
"There are clear things that I'm discussing. But there are other issues that need to be sorted."
Pietersen also disputes the idea that the sticking points between himself and the ECB are his availability for a full Indian Premier League campaign next year - at a time when England have Test match obligations against New Zealand.
"That is two of many points - and they're not the main two points," he said.
"Let's get that very clear. They're not the main two points - there are other points I'm trying to sort out in the dressing room.
"The family thing is just another point - that's three points. But there's a lot of other issues that are more important that are being sorted."
Pietersen refused to go into detail about his disenchantment with either his employers or team-mates, but risked alienating public opinion by inviting pity.
"You know what, for me, the saddest part about all this is that the spectators just love watching me play - and I love playing for England," he said.
"The politics is what I have to deal with personally. It's tough being me playing for England."
He acknowledges it would be with great regret if he did have to call time on his international career.
"It would be a huge shame," he said. "I love playing Test cricket for England, but ... we'll see.
"We'll find out at the end of the next Test what has been going on."
Speculation
Pietersen took issue with the premise that he is setting the agenda in his controversial negotiations, by making public pronouncements.
"There's always speculation," he said. "There's speculation every single day. You guys speculate about my life all day, every day.
"I'm going to make some decisions that will make me very happy.
"It was blamed on me that pre-Test series it was me grabbing the headlines.
"Did I leak anything to the media about the meetings I was having with the ECB?
"I never spoke to the media for one single second ... and it was me grabbing the headlines and journalists talking about me grabbing the headlines.
"I never spoke a single word to a single journalist about anything that happened behind closed doors that I thought were closed doors.
"So you guys are always going to speculate and make me out to be the bad guy. No problem."
Captain Andrew Strauss found himself dodging questions afterwards about the Pietersen controversy.
"I wasn't in that press conference, so I don't want to talk about what Kevin may or may not have said," said Strauss.
"I'm not here to talk about Kevin Pietersen. It is not something I want to talk about at this stage."