Gatting has mixed KP feelings
Former England skipper Mike Gatting feels Kevin Pietersen is not irreplaceable with his international career shrouded in doubt.
Last Updated: 09/08/12 12:04pm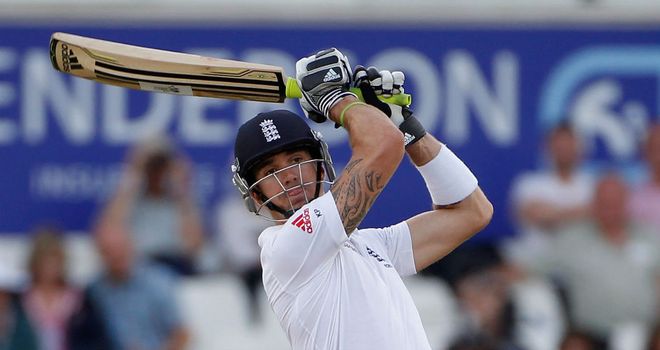 Former England skipper Mike Gatting feels Kevin Pietersen is not irreplaceable with his international career shrouded in doubt.
Pietersen hinted next week's final match against South Africa could be his last Test after making clear his dissatisfaction with many aspects of his employment by the England and Wales Cricket Board.
A sensational innings of 149 in the second Investec Test at Headingley has given Pietersen, who announced his retirement from limited overs cricket in June, legitimate reason to think he is a key cog for England as they attempt to remain the best five-day side in the world.
Former captain Gatting is unsure of Pietersen's motivations for voicing his concerns in the middle of a Test series but is of the opinion the 32-year-old is not irreplaceable.
Decisions
"I'm not sure why he wants to quit Test cricket now. But that's up to KP," Gatting told Sky Sports News.
"He's the man that makes the decisions, and nobody else.
"He's done really well for England, and he proved that (again) at Headingley by playing a magnificent innings.
"It'll be sad to lose him. But it will give somebody else a chance to come into the England team and prove their worth.
"The fellow he batted with for a little while, Mr (James) Taylor, I'm sure he might like to play for England.
"So when somebody stands down, it gives somebody else another opportunity."
Gatting, who won 79 caps with England, also believes the issue should not cloud the team's focus.
But the 55-year-old is confident captain Andrew Strauss and coach Andy Flower will act in the best interests of the side as England attempt to cling on to their number one status with a series-levelling victory at Lord's next week.
"At the end of the day it's about the team, what goes on in the team, not about any one individual," he said.
"I'm sure Andy Flower and Andrew Strauss will look after the situation and they'll make sure that they do what's best for the team - because that's what it's all about.
Issues
"You need to be a team to get to number one in the world, so I'm sure that'll the main thing on their minds - to make sure they get the team right and they've got a great chance going into the Test match at Lord's."
Pietersen had refused to confirm that the decisive Lord's Test would be his last when asked on BBC Test Match Special but added: "I would like to carry on, but there are obstacles that need to be worked out."
Pietersen added: "It's absolutely 100% not about money. This is not a money issue.
"There are clear things that I'm discussing. But there are other issues that need to be sorted."