Giles: KP call won't hit team
Ashley Giles insists England will not be disrupted by Kevin Pietersen's difficult decision over his Test future.
Last Updated: 09/08/12 12:04pm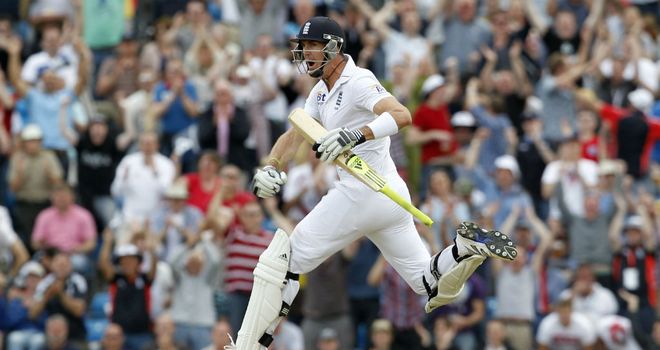 Ashley Giles insists England will not be disrupted by Kevin Pietersen's "difficult" decision over his Test future.
Pietersen hinted, after playing a starring role in the drawn second Investec Test against South Africa at Headingley, that next week's series finale at Lord's could be the last Test of his career.
Much of the summer has been played out to a backdrop of doubts over Pietersen's place in the England set-up, with the 32-year-old having already retired from limited-overs internationals due to England's punishing schedule.
He demonstrated what he has to offer to England with a stunning 149 in the first innings in Leeds - it was his 21st Test century and took his career tally past 7,000 runs.
But even that was overshadowed by his post-match comments, which Giles admitted came as a surprise.
"Some of it did," he told Sky Sports 1. "I haven't seen the press conference but I've seen some of the quotes.
"I don't know what particularly is going on in the dressing room or contractually, that's an employment issue.
"It's a difficult time in any player's career when they decide to perhaps give up Test cricket, it's a very hard decision to have to make and only Kevin Pietersen can make that.
"He plays a lot of cricket and I can understand why he's tired but playing Test cricket, for me, was the pinnacle. Ultimately I think it's going to be his decision."
The uncertainty is the last thing England need going into a crucial showdown at the home of cricket, trailing 1-0 in the three-match series in which their world number one ranking is on the line.
But Giles is confident the team will remain focused on the task at hand, no matter the situation regarding Pietersen.
"So far Andrew Strauss and Andy Flower have led this team and this dressing room very well and so I can't see there being any breaks or splits going into that last Test match," he said.
"We all know how important it is and I'm sure the team will be very much together."