Mixed feelings for Bell
Ian Bell admitted to mixed feelings after he shared a crucial century stand with Jonny Bairstow on day two of the third Test.
Last Updated: 18/08/12 6:28am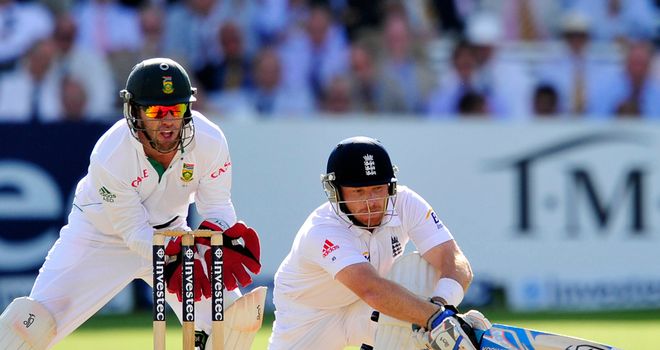 Ian Bell admitted to mixed feelings after he shared a crucial century stand with Jonny Bairstow as England ended day two of the must-win Test against South Africa on 208-5.
Bell and Bairstow joined forces when England were faltering on 54-4 in reply to the visitors' 309 all out.
Bairstow was 72 not out at the close, but Bell edged Vernon Philander low to third slip for 58 and admitted he was frustrated to have got out in such a manner after being ultra-cautious on his way to his 34th half century in 80 Tests.
He told Sky Sports: "It didn't feel like the most fluent innings I have ever played. I'm frustrated, we'd done a lot of the hard work.
"I haven't got a lot of my footwork right on the front foot. I was desperate to keep scrapping away. I'm disappointed."
Of England's overall performance, Bell added: "A bit of a mixture. I think we are in this game. South Africa will come back hard but it's been a good day's cricket.
"We hope if we keep banging away in good areas results will come. It's a big day for us tomorrow. We've got two batters there who can score runs."
Bairstow praise
Bell had nothing but praise for Bairstow, saying: "Brilliant, fantastic, a massive character. He's shown what a quality player he is with the bat.
Bairstow was named in the side to replace Kevin Pietersen and could have felt under pressure after being recalled in such controversial circumstances, but Bell insisted: "If we had been thinking about that, then there would have been a lot of pressure on him. I don't really think he would have thought like that.
"As soon as we got together as a group, I don't think that was on our minds. All we've thought about was trying to win this Test match.
"From the moment he turned up in practice, he just talked about being Jonny Bairstow and scoring as many runs (as possible) - like Jonny Bairstow has for the Lions and for Yorkshire. That seems to have worked for him really well."
Bell pointed out his junior partner had more important things than Pietersen to worry about - namely how to deal with the short ball against world-class bowlers.
"I'm not too sure about the shoes to fill," he said. "But he certainly showed some great character, having been left out of the team and had to go away and work on a few areas.
"He was tested with them straightaway - which you expect in Test cricket - and I thought he handled himself brilliantly.
"He'd obviously worked really hard on a method back at Yorkshire, and got through that test."