Finn: We can still win it
Steven Finn says the England players still believe they can win the final Test against South Africa and tie the series.
Last Updated: 19/08/12 9:52pm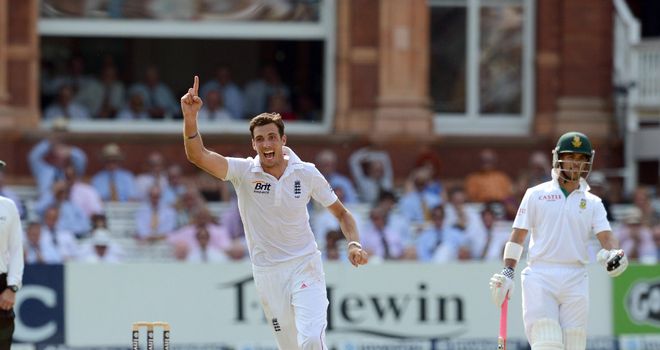 Steven Finn says the England players still believe they can win the final Test against South Africa and tie the series.
The hosts were already up against it, to rewrite the history books in a chase of 346 to share the Investec series and salvage their world number one status.
And the mountain became steeper to climb when England lost Alastair Cook and Andrew Strauss before the close, with the hosts on 16-2.
But tailender Finn, who took 4-74 in the tourists' 351 all out, insists the dressing room firmly believes victory is in their grasp.
"As a team collectively over the last number of years, we've enjoyed breaking records and defying people's beliefs against us," said Finn.
"So tomorrow, when we get here, we've got a 15-over old ball to bat against - which isn't going to do as much as an new ball obviously.
"We've got a great opportunity to assert ourselves on the South Africans early - and we really do believe in the dressing room that we can win this game tomorrow."
Partnerships
The key, according to Finn, will be to simply stay in the game as long as possible - and then gather momentum with wickets still in hand.
"It's going to be important we try to build partnerships, get our foot in the door and then later on in the day maybe we can smash through it and win the game.
"If we get later in the game, with what can be a tired bowling attack, we know that the older ball does a lot less than the new ball."
He acknowledges third-wicket pair Jonathan Trott and Ian Bell are likely to have to play a significant part, after the loss of captain Andrew Strauss and Alastair Cook to Vernon Philander.
"The new ball is where it's dangerous," he added. "The two guys that are in have performed fantastically well for England for a long time ... we hope they can build a big, long partnership.
"We have that belief in the dressing room. It's up to the batsmen to really knuckle down and get us into a position where we can win the game.
"I think it's a very good pitch. I think Morkel got one bit of uneven bounce this evening to Belly. But when the ball went a bit softer, there wasn't any uneven bounce whatsoever.
"When the ball is old and the sun is out, the wicket is a very good one for batting on - and people can make themselves difficult to get out."
Wickets
South Africa are taking nothing for granted yet, but have every reason to be optimistic.
"Of course we are thinking of winning," said centurion Hashim Amla. "Fortunately we managed to take two wickets, which has put us in a good position.
"But it will still take a lot of hard work. If we show the intensity we showed tonight, it should help.
"To score above 300 (in the fourth innings) is a very difficult ask. We have been in that situation before. In fact, anything over 250 is difficult."