Strauss not planning KP talks
Andrew Strauss insists he has no immediate plans to meet Kevin Pietersen and sort out the controversial batsman's England future.
Last Updated: 21/08/12 6:32am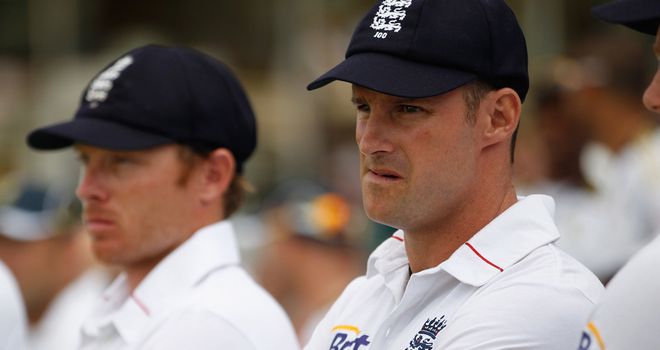 Andrew Strauss insists he has no immediate plans to meet Kevin Pietersen and sort out the controversial batsman's England future.
It was thought Pietersen and England's captain were set to come face to face this week, following the text-message controversy which led to Pietersen being dropped for the Lord's Test against South Africa.
But after the hosts had lost by 51 runs at HQ on Monday, conceding their world number one status to the Proteas in the process, Strauss made it clear he would not be meeting the mercurial right-hander in the days ahead.
It seems inconceivable that Pietersen will be named on Tuesday morning in either England's ICC World Twenty20 15-man squad, or a slightly smaller one to face South Africa in five one-day internationals.
And Strauss reiterated that he expects a lengthy process before the 32-year-old can be welcomed back into the England team.
Asked whether he expects to meet Pietersen this week, he said: "Not from my point of view, no.
"I don't think anything is going to be happening straightaway.
"I said before the match, the issues that need to be resolved will take a while to be resolved - and we'll be looking to do that away from the public eye as much as possible in the coming weeks," he added.
Strauss stressed too that the controversy surrounding Pietersen did not affect him or his England players at all during the Lord's Test.
"It was a big thing in the build-up to the game," he said. But because it was such a tight, absorbing Test match - where it was very hard to take your eye off the ball - it certainly wasn't something that crossed our minds."
Time for a break
Strauss is now planning a short family holiday before returning to cricket for Middlesex next week, but acknowledged he needs some time to recover and reflect before thinking about the team's next challenge - a tour to India in November.
"I've great faith in the team; I've great faith in the set-up. I've still got a lot of desire there," said Strauss.
"We'll see how things go. From a physical point of view it was a tiring week, but that passes pretty quickly.
"I'm keen to get away for a few days and have a bit of a break.
"Then we all need to sit down - myself and (coach) Andy (Flower) in particular - and try and map out the way forward."
But Strauss did insist that the spirit within the dressing room at Lord's - despite the defeat - had left him feeling optimistic about the future.
"It's not people clapping on the balcony necessarily; it's everything that goes with performing - how people look after each other, the language that is used in the dressing room," he added
"I thought we were outstanding this week. The guys really wanted to prove to everyone that the distractions are something we could live with and still perform alongside.
"Everyone gave their all this week, so I'm very proud of the players. Actually, I'm incredibly proud of what they've done this week. It's just a shame we didn't get the right result."