Far from favourites
England will struggle to retain their World Twenty20 title without Kevin Pietersen, says Mark Butcher.
Last Updated: 21/08/12 12:23pm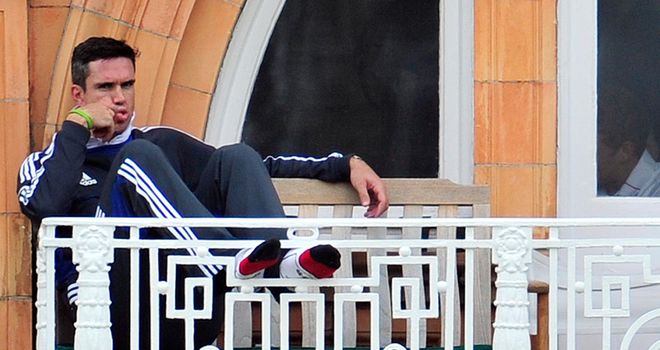 They may be reigning champions but without Kevin Pietersen in their squad and facing sub-continent conditions England are by no means favourites for the World Twenty20, says Mark Butcher.
England named their squads for the upcoming one-day series with South Africa and September's World Twenty20 contest in Sri Lanka on Tuesday, and neither featured Pietersen, whose continued problems with the national side's management leave his international future up in the air.
And Butcher believes that without their swashbuckling batsman on the tricky tracks in Sri Lanka, which have so often proved unfavourable for England, Andy Flower's men are in for a tough challenge.
"It's no surprise to anybody that Kevin Pietersen hasn't been selected for these squads but England are going to have to find a way to cope," Butcher told Sky Sports News.
"When you go into a tournament without your star player the rest of the team has to pick up the slack. But it will be very tough for them to retain their World Twenty20 title without their best player.
"Without Pietersen in the squad, and considering the conditions down in Sri Lanka, England don't go there in any shape or form as favourites to retain that title."
Broad's break
Stuart Broad is another absentee from the squad to face South Africa, however Butcher assumes the England all-rounder is simply being given a much-needed rest after a tough summer of cricket looked to be taking its toll on the 26-year-old.
"Broad's absence is the biggest surprise, but I am guessing that is for the purposes of giving him a bit of a break," said Butcher.
"He looked like he was struggling a bit for pace with the ball during the Test match series and did not look 100% fit. I guess he is now going to go on the now famous rest and recuperation and strength and condition programme that the England players get sent on.
"However, the rest of the squad looks pretty much as you would expect and the ODI side has been incredibly successful under Andy Flower in the last 12 months so they are sticking pretty much to that formula.
"The other good news is that Ravi Bopara seems to be over his personal problems and is back in both squads."