Woakes: Dressing room is fine
Warwickshire all-rounder Chris Woakes insists the England dressing room remains a "fantastic" place to be after a turbulent summer.
Last Updated: 27/08/12 5:30pm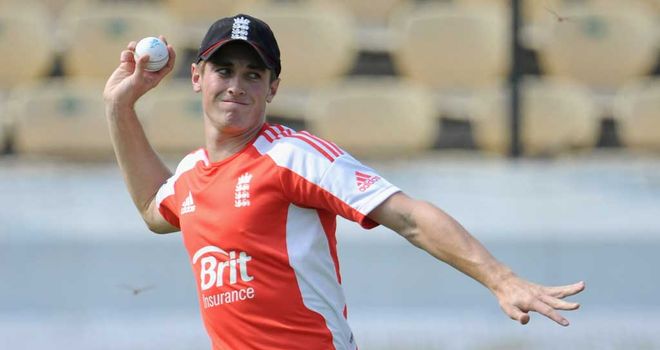 The Kevin Pietersen saga may continue to cast a shadow over England's summer, but Warwickshire all-rounder Chris Woakes insists there has been no negative effect on dressing room harmony.
Pietersen remains exiled from the national side for the time being, with the apparent reversal of his one-day retirement not enough to bring him into contention for the current one-day series against South Africa.
Instead, the England and Wales Cricket Board are seeking resolution to a number of issues involving their star batsman - not least the "provocative" text messages sent by Pietersen to opposition players and the ongoing issue of availability for the Indian Premier League.
Newspaper reports have suggested Pietersen may also have been critical of debutant James Taylor in his last Test appearance at Headingley, though the ECB refuse to comment on such speculation while negotiations between the parties continue.
Like Taylor, Woakes is a relatively inexperienced member of the England set-up with five ODIs and three Twenty20 caps to his name.
And despite the turbulence Andy Flower's side are currently experiencing, he has seen nothing but positivity from his team-mates.
Talent
"Kevin is a fantastic player but there is a lot of talent in the dressing room. It's hard for me to comment about what happened in the Test series, because I've never been in a Test squad," he said.
"But this is a fantastic dressing room to come into.
"Everyone is welcoming when fresh faces come in for a one-day series. It doesn't seem to change really.
"Everyone welcomes each other in and there's banter flying round. It's a good place to be and I wouldn't want to be anywhere else but an England dressing room."
Woakes' return to the one-day side for the first ODI in Cardiff on Friday was something of a damp squib, rain forcing an abandonment after only 5.3 overs of the home side's innings.
His previous appearance was almost exactly a year previously in Ireland and in the the meantime his stock has risen considerably.
Most eye-catching is his batting - with a first-class average of 87.75 from eight innings to go with 25 wickets at 23.32.
And while he is happy about his progress with the bat, Woakes still sees his main job being with the ball.
"I still think my primary skill is bowling and I have areas to improve there, but if I keep my batting going in the direction it is at the moment then that's good," he said.
"I think I've developed my batting a lot in the last 18 months. I felt like I've had the potential to be an all-rounder but never scored the runs to warrant it. I feel I have the runs under my belt now to be classed as an all-rounder and that is where I want to be.
"It's a good thing to have the other string to my bow. I feel like my cricket has gone from strength to strength as my career has progressed. My batting has definitely improved and I have some form to back that up.
"If I can improve my bowling the way I want to and become an international bowler, that will be my way in (as an England regular)."