No net benefits for Broad
Stuart Broad has resisted the notion of compulsory nets as England seek to bounce back from another defeat against South Africa.
Last Updated: 09/09/12 4:19pm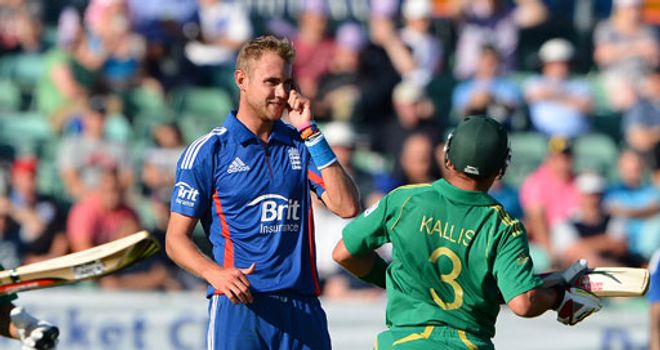 England Twenty20 skipper Stuart Broad has resisted the temptation to order compulsory nets as they seek to bounce back from a second successive seven-wicket defeat against South Africa.
The hosts repeated the failings of their NatWest Series defeat at Trent Bridge last week, when they again failed to post a competitive target at the Emirates Durham ICG on Saturday.
They therefore trail 1-0 in a hectic three-match series, which will be concluded on Wednesday night in Birmingham - hours before they fly to Sri Lanka, on Thursday morning, for the defence of their ICC World Twenty20 crown.
A series of batsmen failed to do themselves justice as England registered the third-lowest Twenty20 total in their history at Chester-le-Street.
But Broad is wary of insisting on more practice, in a situation where he senses mental refreshment might be most beneficial.
"It's a tricky time of year," he said.
"You don't want to be netting all the time, because we've had quite a long cricket season; you've got to actually manage your time well.
"Whether going to the nets and doing certain things is the best thing to do, we'll have a discussion about; or whether getting away and actually having a think about what we do (is better)."
Responsibility
He added: "The boys have hit a lot of balls this summer.
"Maybe this was a mental switch-on, to someone batting through and taking responsibility.
"Whether hitting more balls is a good option, we'll have a look."
Broad is not concerned about England's collective skills, even though they lost four wickets to South African spin - hardly a reassuring pointer to their prospects in the sub-continent where they will be presented with the same challenge, only in a more testing environment.
"We didn't play the spin especially well. But we've got good players of spin in there," he said.
"Morgs (Eoin Morgan) is a fantastic player of spin. We've seen him dominate it in the past - it just didn't come off for us here.
"Jos Buttler, in training, hits the ball further than anyone.
"We want guys to have the freedom to go for that boundary option.
"You don't want to curb that enthusiasm too much. But obviously it didn't work out for us, and we need to put that right in a very short turnaround."
Hardly shock
Eight overs of Robin Peterson's slow left-arm and Johan Botha's off-spin was hardly a shock for the hosts.
"I don't think they surprised us," added the captain.
"We've played against both of them quite a lot in the last couple of years.
"I think it was quite a good wicket to bowl spin on, because the ball didn't really come on.
"The advantage they then had when batting was that they didn't have to take a risk against Swanny (Graeme Swann).
"For that reason, I think it was a pretty good toss to win. But whatever you do first, you have to do well - and we batted extremely poorly.
"That's something we'll have to improve. That's a given; we'll have to improve not only (at Old Trafford) but in the next month."