Compton - Bring it on
Nick Compton is determined to make a significant contribution to the team after being named in England's Test squad to face India.
Last Updated: 18/09/12 3:14pm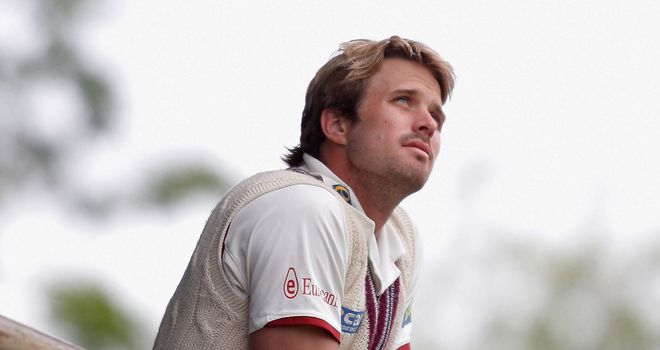 Somerset batsman Nick Compton is determined to make a significant contribution to the team after being named in England's 16-man Test squad to face India this winter.
The right-handed batsman has been rewarded for a stellar domestic season, in which he scored 1,191 runs to help Somerset finish as runners-up in Division One of the LV= County Championship, with a maiden call-up to the Test arena.
The 29-year-old joins Yorkshire's Joe Root in the new-look touring party and the pair look set to battle it out for the vacant England opening batting position, which has been made available following the retirement of Andrew Strauss.
Speaking on the prospect of representing England some 55 years after his grandfather Denis last did so, Compton told ecb.co.uk: "It's hard to describe. It is really overwhelming but I am over the moon. It's something I have worked towards for a long time. I'm happy for my family and everyone that has contributed to my success.
"It's been a lifelong ambition to be a top Test match batsman. Getting a call up to the squad is a great start but I want to set my sights on contributing and being an asset to Alastair Cook's Test team.
"I'm proud of the way I've managed to become a good starter to an innings. I have had very few innings where I haven't scored runs. As a top-order batsman that's what you are looking for, that level of consistency.
Confidence
"Every sportsman has a journey and a story to tell. I feel that I have worked particularly hard over the last two of three years on developing a world-class defence and putting myself under a lot of pressure in practice."
Compton is hoping his previous batting experience in the sub-continent will stand him in good stead should he be selected for any of the four Test matches against Mahendra Singh Dhoni's India.
He added: "The challenge of batting in India is one that has proved notoriously difficult for English players in the past; the spin-friendly conditions are in stark contrast to what is experienced on these shores.
"I will go to India full of confidence. The nature of my success this year has been built on taking each ball and each game at a time and I will stay true to that. I won't be doing anything differently in India.
"I'm not going to go there and play like someone else. I believe in keeping the game as simple as possible. Of course there will be more distractions and things to experience but I am very much looking forward to being on the international stage.
"It's another challenge but a fantastic chapter in my life. I've been to India four or five times, including in the Champions League with Somerset last year, so I know what it's like to play in front of big crowds out there.
"I have been to training camps in India with the ECB and my respective counties so I feel I have a good understanding of what I am up against. I also love travelling and the heat so I am excited about getting out there.
"(It's about taking things) one step at a time. Getting on the tour is a start but it's another challenge to get a place in the starting XI. If I get a chance then it will be a fantastic moment but hopefully I can contribute to the team."