Briggs backing spin
England could adopt a three-pronged spin attack in some of their T20 matches, according to Danny Briggs.
Last Updated: 21/09/12 11:19am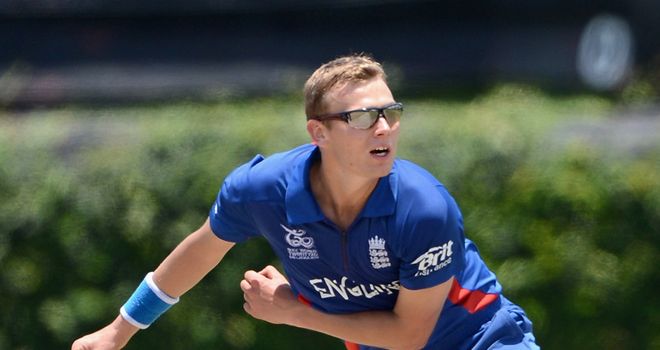 Having seen the importance of spin bowling during their ICC World Twenty20 warm-up wins, England could adopt a three-pronged spin attack in some matches, according to Danny Briggs.
They certainly did at the P Sara Oval, where the left-arm orthodox of Danny Briggs (3-15) and all-rounder Samit Patel was especially well-served in a 15-run win over Pakistan.
The pair, operating in the absence of the rested Graeme Swann, were complemented by seamers Jade Dernbach (3-14) and captain Stuart Broad as England comfortably defended a total of just 111 on an awkward pitch.
Evidence from two matches at the Premadasa Stadium - where England will face Afghanistan in their opening Group A match on Friday - suggest pace will be just as important as spin there.
But 21-year-old Briggs noted after England had completed their warm-up campaign with a second successive win - they beat Australia by nine runs on Monday - that they have the personnel to play three quality spinners if appropriate.
Three spinners
Asked if that might happen, he said: "Possibly. With the squad we've got, we have a lot of options - depending on what the pitch is like - so that's one way we could go."
Whether the Premadasa Stadium is conducive to him, or others, Briggs has seen enough Sri Lanka pitches over the past week and with the England Performance Programme last winter, to know that spin is a major weapon.
"We've got to play spin well as batsmen and deliver it well because there are world-class players out there," he said.
England's toughest group match appears to be against India on Sunday, but they know they cannot afford to underestimate their first opponents either.
"We can't take Afghanistan lightly and will have to really punish them as well and get off to a good start," Briggs added.
India test
After that, he hopes England's hard-fought win against Pakistan will turn out to be especially worthwhile reconnaissance to take on India.
"They're from a similar place and play the same way, so it's always good preparation," he added.
Briggs, who has had to put back his wedding date until next month in order to serve his country here - and will now therefore miss Hampshire's qualifying campaign in the Champions League in South Africa instead - is revelling in the experience to date, and hopes there is plenty more success to come.
"It's been really good," he said. "I've enjoyed it and the lads have been really great.
"As soon as the tournament starts, it's going to be even better.
"We're definitely playing good cricket and we've adapted to these conditions pretty well so far. We hope that can continue when we get into the tournament."