Steven Finn has labelled West Indies "dangerous opponents" ahead of Thursday's ICC World Twenty20 Super Eights fixture
England quick Steven Finn has set his sights on hitting West Indies hard when the two sides meet in the Super Eights.
Last Updated: 25/09/12 3:31pm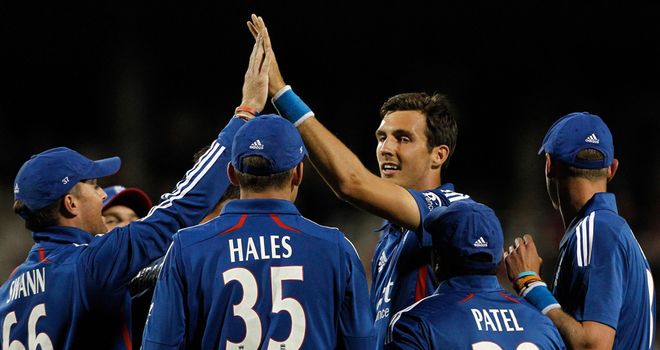 Reeling from their humiliating 90-run reverse to India in Colombo last time out, England have travelled across Sri Lanka to Kandy, where they are preparing for what is now the "business end" of the competition.
England and West Indies have already contested a Twenty20 international in 2012 with Stuart Broad's men chasing down 172 with two balls to spare at Trent Bridge back in June.
The men from the Caribbean showed glimpses of their batting firepower that day and Finn is well-aware of the importance of keeping players such as Chris Gayle and Kieron Pollard as quiet as possible.
"They're a very dangerous Twenty20 side," said Finn.
"We're taking no one lightly, and it's important that we go into this game against them in a couple of days really ready to hit them hard.
"Whether it's me opening the bowling or the opening batsmen setting the tone, it's important that we go out there and do that.
"As an opening bowler I have to set the tone for the team. I could get better at it; I haven't been brilliant at doing that in the games we've played so far in the tournament, and I'm looking to get better again."
Setbacks
Finn picked up a wicket in the opening over of each of England's Group A fixtures - Afghanistan's Mohammad Shahzad and India's Irfan Pathan.
And the Middlesex man acknowledges that it is hard for the batting team to recover from early setbacks.
"We know that wickets peg you back in Twenty20 cricket," said Finn.
"We experienced that the other night when the constant flow of wickets really did peg us back.
"It's my job up front, sometimes bowling at the most dangerous batsmen, to get them out early on.
"I relish that opportunity. It's great that Broady entrusts me with that new ball to go out there and try and do it - and it's something I really enjoy."
With associate nations Afghanistan and Ireland eliminated from the tournament, England know they will have to play well to pick up the minimum two wins out of three required to reach the semi-finals.
The heavy defeat to India in their last outing was only England's fourth defeat in their last 13 Twenty20 internationals and Finn believes that crushing Colombo loss has already been "brushed under the carpet".
He added: "We know we've come back in the face of adversity before - we've played some of our best cricket after having poor performances - so it's really exciting moving to Pallekele now to get these next three games under way.
"We don't have to do anything different than we've done. We've had one one bad game - we know that - but we move on from it.
"We brush it under the carpet; we learn from our mistakes, and we get better from it.
"I think it was a bad day at the office. We played very good cricket in the warm-up games and very good cricket against Afghanistan."