England's Eoin Morgan is relishing the ICC World Twenty20 clash with Sri Lanka
England's Eoin Morgan is relishing the crunch ICC World Twenty20 clash with hosts Sri Lanka at Pallekele on Monday.
Last Updated: 30/09/12 1:43pm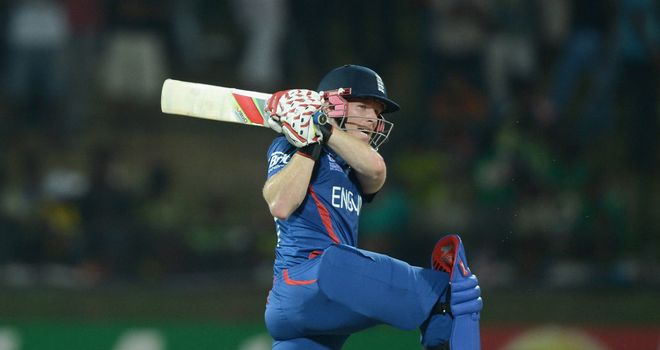 The defending champions go into Monday's final Super Eight match on the back of a confidence-building win over New Zealand on Saturday.
Sri Lanka ended England's interest in last year's World Cup with a 10-wicket quarter-final trouncing in Colombo, and they could repeat an unpalatable double in this competition on Monday.
While admitting it will be tough against the hosts, Morgan is looking forward to the game.
"It's a great opportunity for us to test ourselves in very tough conditions," said Morgan, who is convinced England can beat anyone on their day.
"Yes, absolutely (we can). We have a huge amount of match-winners.
"The performances from the guys last night summed that up. Three or four of us played exceptionally well - and world-class players, like Brendon McCullum, found it very difficult to deal with us.
"In crunch games, producing a performance at this time of the tournament is crucial."
Morgan is back to form after a lacklustre year in his favoured limited-overs format. He notched an unbeaten 71 from only 36 balls against West Indies and then, as Luke Wright hit the most telling blows against the Kiwis, Morgan also helped to shepherd a successful chase.
Wise head
His billing as the wise head, as well as pivotal force, in England's middle order is one consequence of Kevin Pietersen's controversial absence and he is enjoying the responsibility of seeing his side home.
"I think the role that I play within the side has changed over the last six to 12 months," he said.
"The responsibility on my shoulders is one that I enjoy.
"I relish batting in the middle order and towards the end of the innings, and nurturing guys along and getting us over the line.
"It's a role I enjoy a hell of a lot."
Captain Stuart Broad, and Morgan himself, have pointed out his suitability to batting after the six-over powerplay once the ring field retreats.
"My skills as a middle-order batter - and the stats back it up - the success I've had all guide towards batting from six to 20 overs," said Morgan.
"When I get in early in those six overs, I don't seem to do well.
"Having looked at my strengths within the side - when we do well, and I do well - everything seems to point to me batting in the middle order, seeing things through and enjoying the responsibility and playing the situations.
"It's a role I've thrived on. It's worked really well, and we'll stick with it. For some random reason, I like it.
"I think it's built on the experience I've had in the past. What I know best is doing that."