England boss Andy Flower admits team failed to deliver during ICC World Twenty20
Andy Flower pulled no punches after his side's ICC World Twenty20 title defence came to an end with defeat to Sri Lanka.
Last Updated: 02/10/12 9:58am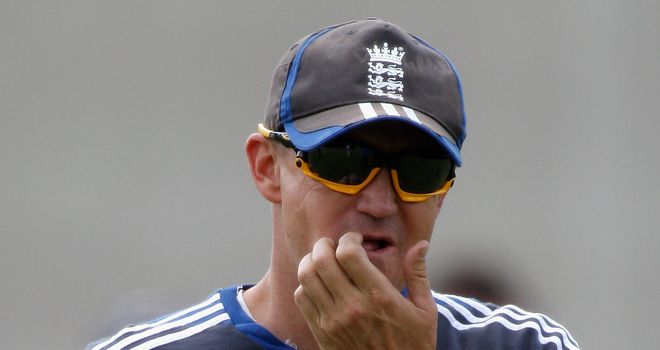 Chasing 170 for victory against the hosts in Pallekele, England fell 19 runs short, despite a superb half-century from all-rounder Samit Patel.
Speaking after the tournament, in which England lost three of their five matches, Flower admitted his side simply failed to hit the standards expected.
He told Sky Sports: "Last night was a quarter-final, effectively, and we weren't good enough to beat Sri Lanka on their home soil.
"There were little sparks of positive play but they were more streetwise than us and obviously deserved to win the game.
"It's sad that we're leaving this early, but that is the fact of life."
Twenty20 captain Stuart Broad was keen to pick out the positives on offer despite England's failure to reach the last four of the tournament.
Steven Finn's bowling, Luke Wright's much-improved batting and - against Sri Lanka - the strokeplay and know-how of Patel all suggested England have the talent to do better.
Patel's maiden Twenty20 international half-century took England close to Sri Lanka's 169 for six in a final Super Eight match they had to win to progress to the knockout stages.
"The way Samit played the spin was very encouraging," said Broad.
"He looked a class act out there, and if we could just have hung around and stayed with him we knew the last four or five overs can go for anything here - because the ball just flies away.
"He did really well. His big strength is the way he plays the spin and how he hits over the off-side; he made some really good spinners go for a few runs here.
"That's a huge positive for us, not just as a Twenty20 team but as an England cricket side for the future."