Captain Stuart Broad praises Samit Patel and Steven Finn after World Cup exit
Stuart Broad is confident that his inexperienced Twenty20 team will return a much stronger side for future World Cups.
Last Updated: 02/10/12 10:46am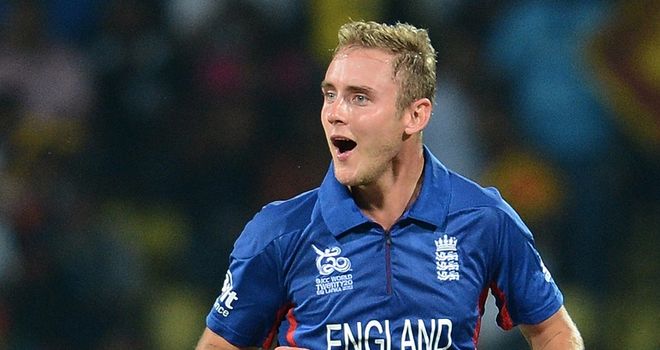 Broad's charges failed in their quest to retain the ICC World Twenty20 crown Paul Collingwood had guided them to in the Caribbean two years ago following Super Eight defeats to West Indies and Sri Lanka.
But rather than dwelling on the negatives, Broad believes younger players such as Jonny Bairstow, Jos Buttler and Danny Briggs - all of whom made their debuts in the competition - will be better for the sub-continent experience.
"Looking at Colly's side, it took him three 'World Cups' to win it," said Broad.
"The experience of being involved three times helped him to then find the formula to actually win it.
"When we go to the next 'World Cup', we will have guys who've had the experience of playing in them on the sub-continent."
Encouraging
Broad reserved special praise for Nottinghamshire team-mate Samit Patel after his counter-attacking innings took England close to victory against Sri Lanka.
Patel struck 67 from 48 balls as England fell 20 runs short of pulling off a victory which would have guaranteed their progress into the semi-finals.
"The way Samit played the spin was very encouraging," said Broad.
"He looked a class act out there, and if we could just have hung around and stayed with him we knew the last four or five overs can go for anything here - because the ball just flies away.
"He did really well. His big strength is the way he plays the spin and how he hits over the off-side; he made some really good spinners go for a few runs here.
"That's a huge 'positive' for us, not just as a Twenty20 team but as an England cricket side for the future."
But Broad spoke in more glowing terms about England's number one seamer Steven Finn, for his contribution throughout the tournament.
Finn finished as England's leading wicket-taker with eight wickets and once again proved his worth in the sub-continent.
"You have to look at the performance of someone like Finny throughout - he's been really good for us," Broad added.
"He's come here and done his role. He was asked to go and try to bowl fast with the new ball, and take wickets, and he really did that well for us."