Stuart Broad: No problems with Kevin Pietersen's England return
Stuart Broad says the England team will have no problem accommodating the return to the fold of Kevin Pietersen.
Last Updated: 10/10/12 5:42pm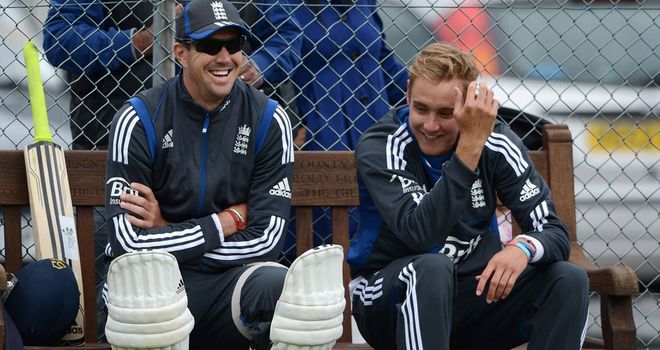 England dropped Pietersen after text messages he sent to opposition players during the Headingley Test against South Africa appeared to confirm the relationship between himself and his teammates had broken down.
But a penitent Pietersen has apologised and may yet be recalled for the tour of India, after signing a four-month central contract last week.
And Broad is adamant that Pietersen's return to the team will not cause any problems.
"The team have no issues with KP coming back, if the management decide he's ready to," said the paceman.
"It's in their hands at the moment. There are some meetings going on behind closed doors and we're waiting to see the outcome of those.
"But, from the team's perspective, his integration will be easy. Ultimately we're playing cricket and we want guys who will score runs and take catches to help England win. Whatever's happened, has happened.
"We pride ourselves on being a strong dressing room and I'm sure that, if he came back for India or New Zealand, or whenever, things will be fine within the team.
"I've not spoken to Kev since the Headingley Test match, but I'd have no problems playing with him or having a beer with him. It's not an issue."
Hugely disappointed
Broad is captain of England's Twenty20 team and admitted that he was sorry to be without Pietersen for the ultimately unsuccessful defence of their title in Sri Lanka this month.
"It's hard to tell if the results would have been different had he been there," said Broad.
"Obviously he's a fantastic Twenty20 cricketer, who did wonders for us when we won the World Cup in 2010.
"In June, when I found out he'd retired from the white-ball format, as captain I was hugely disappointed, because I thought he'd be an integral part of our World Cup defence.
"It would be hard for me to say we didn't miss someone of his experience at the top of the order, so I was disappointed when he did pull out.
"But the situation went towards the management side of things and it turned out he couldn't be there."