England tour of India: Stuart Broad to take charge for second warm-up match
Stuart Broad is set to lead a happy England team in the second tour match against Mumbai A, starting on Saturday.
Last Updated: 03/11/12 6:50am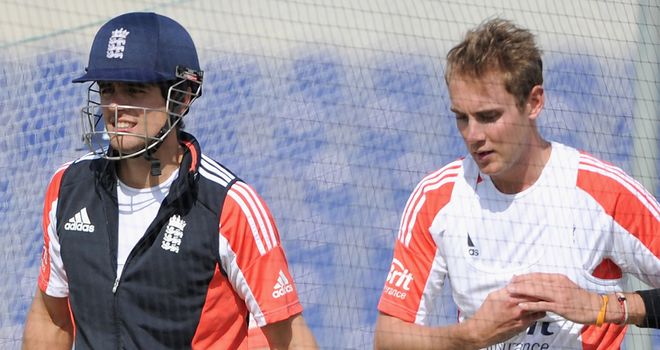 Cook confirmed he will miss the three-day match against Mumbai A starting on Saturday for which England look set to make several changes following their opening draw with India A.
"We're trying to give everyone as much game time as we can," said Cook, who scored a century in the tour opener.
"With Ian Bell going home for the birth of his first child during the second Test, we have to make sure the batter who comes in gets some practice as well.
"That is the idea of these next two games, to make sure we give as many people as possible some practice."
Graeme Swann, meanwhile, has praised Kevin Pietersen for the ease in which he has slotted straight back into the England dressing room.
"Kevin's reintegration has been a seamless process, and it needed to happen," he said.
"Everyone was wondering how it would go and whether it would be as easy as it has.
"But a lot of credit has to be given to Kevin for the way he has come in. It's business as usual and the dressing room is a very happy place this week.
"That's what we need to be. If we are going to have a chance of beating India over here we need to be a very united dressing room."
That does not mean Pietersen will be a special case, spared the occasional digs which fly around all sports teams.
"In the changing room, no one is safe from the humour that flies around - and he's the butt of as many jokes Cooky," added Swann. "He takes it fine. It's been great."
Pressure
As for the Swann's own well-being, he knows he will have to deal with match-winning expectations in these conditions but also be patient at times too.
"There's always pressure on the spinner when you play in India, because people assume in the sub-Continent all the wickets will be big turners," he said.
"You've just got to deal with that in your own way, because we know that a lot of the Test wickets over here are exceptional batting surfaces - at least to start, and then turn later on.
"It's not a lot different to other places. Often in the first innings you have to take a more defensive role and support the seamers a bit more and then later on in the game, if there is turn and bounce, then of course you come into your own.
"It's a pressure that's not alien to a spin bowler; if you're not used to that, you shouldn't really be bowling spin."