Marcus Trescothick thinks Somerset team-mate Nick Compton is ready for Test debut
Nick Compton's county captain has backed him to be a Test success if he gets the chance in India.
Last Updated: 06/11/12 1:59pm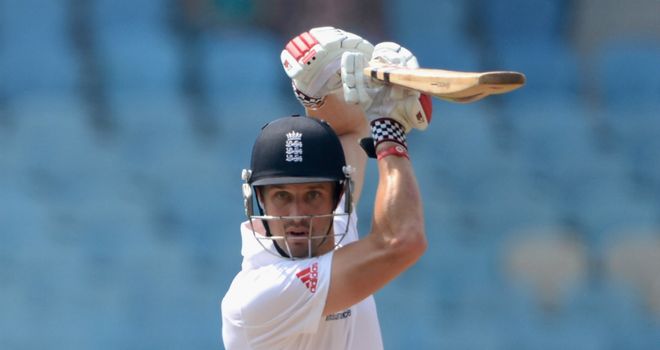 Compton was the leading run scorer in first-class cricket last summer, averaging just under 100 as Somerset finished second in the County Championship.
That form earned him a maiden England tour at the age of 29 and he is in contention for a Test debut when the four-match series with India starts in Ahmedabad on November 15.
Somerset skipper Marcus Trescothick thinks Compton's performances last season show he is ready to make the step up to international level.
"He scored runs when no-one else could score runs in the country at the start of the season when it was wet," Trescothick told Sky Sports News.
"He adapted to conditions and opened people's eyes to what he could do.
"Whether that's enough to get him into the Test team I'm not sure but, should he get the opportunity, I'm pretty sure he's got the game and the mental application to do well in Test cricket."
Audition
Andrew Strauss' retirement leaves a vacancy at the top of England's order, with Compton and Yorkshire's Joe Root, also on his first tour, competing for the role.
The more experienced Compton appeared to be the preferred option from the start and was given first chance in the opener, an audition that did not go to plan.
A three-ball duck ended with him pushing forward and edging a swinging delivery from India A seamer Ashok Dinda through to the wicketkeeper.
The pressure was increased in the second tour match, against Mumbai A, with Cook resting and Root given the chance to open alongside Compton - a "bat-off" with big implications for the career, in the short-term at least, of both.
Compton scored one off 10 balls in the first innings, while Root made a solid start but failed to press on, falling for 29.
Second time around and Compton - another failure away from wasting his hard-earned opportunity - showed all of the powers of concentration familiar to his fans at Taunton, grinding out an unbeaten 64 in three-and-a-half hours as the match finished in a draw.
That compared favourably with Root's 24 and, with one tour match still to come before the series gets under way, leaves Compton in line for a Test debut next week.