Seamer Graham Onions hoping to impress in England's final warm-up fixture
Graham Onions is determined to play as many Tests as he can after at one stage fearing his career might be over.
Last Updated: 08/11/12 1:43am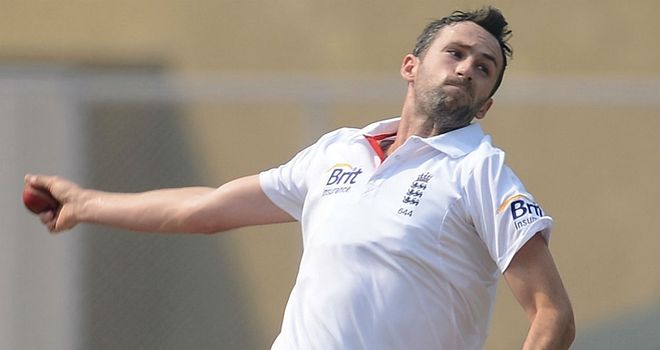 The Durham seamer looks likely to be selected for the warm-up game against Haryana on Thursday, England's last outing before the series against India gets underway next week.
The three-day fixture will give the 30-year-old the chance to press his claims for selection in the Test XI, something he wondered if he'd ever do again when he was struggling with a serious back injury.
"I've played nine Tests and from 2009, when it looked potentially as if I might not play any more, I wanted to play one more Test and would have walked away a happy man," Onions said.
"But when you get fit and strong again, you want to play as much as you can."
Onions made his comeback appearance after two-and-a-half years out of international cricket during the summer, taking 4-88 in the draw against West Indies at Edgbaston.
"In 2009 I went through a tough time and I wouldn't wish an injury on anybody," he added. "When you're sitting out, watching your team-mates go out to play, it's tough.
"Of course, I'd love to finish my career playing 50 to 60 Tests - but that might not happen.
"You've just got to be proud of what you've done so far and keep working hard to try to force your way into the side."
Options
England will be looking at their seam options closely over the next few days due to fitness concerns over vice-captain Stuart Broad and Steve Finn.
But having taken 64 championship wickets at under 15 each in county cricket this year, Onions feels it won't just be down to injuries if he is picked in Ahmedabad next week.
"I'd like to think (with) what I've done in county cricket that I've deserved to be on this tour," he said.
"So if I do play in the first Test, I wouldn't necessarily say it's because of injuries.
"I'd like to think I've done enough to give the captain and coach a headache."