Steven Finn hands England fitness boost ahead of first Test
Steven Finn should be fit for selection for next week's first Test with India in Ahmedabad according to Tim Bresnan.
Last Updated: 10/11/12 12:07am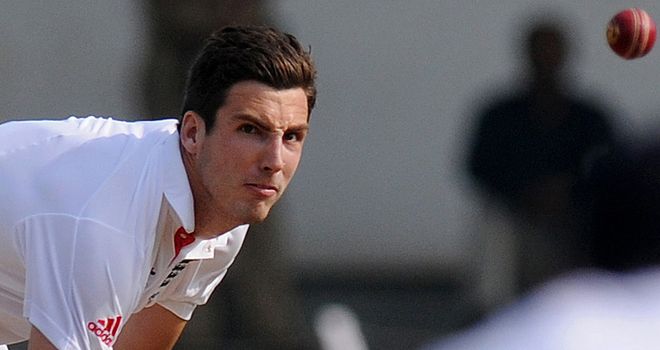 Finn has played just one hour of cricket on the tour because of a thigh injury but he bowled three overs off his full run up in the nets on Friday without a reaction.
His fellow bowlers meanwhile were made to work hard for their wickets as Haryana closed the second day of four on 172-4 in reply to England's 521.
Bresnan was the pick of the bowlers, taking two of the four wickets to fall and he said Finn could come into the selection equasion next week.
"Finny, as far as I know, is off his full run now. That's a very good sign. With six days to go, there's no reason why he shouldn't be fully-fit," Bresnan said.
The Yorkshireman said he hoped there would be room in the side for both of them.
"You throw someone like Steve Finn in there who is bowling 90mph plus consistently, and getting bounce and lift, he's going to add to any team," he said. "He probably would get in any side in the world as he's bowling at the minute."
"It would put a dampener on my preparation if I thought I wasn't going to play. I'm ready to play, and hope I get the nod. You pick the bowlers who are bowling the best from the squad of players you have available."
He admitted the conditions were tough for the bowlers: "That wicket out there is possibly the best I've ever bowled on," he said.
"It's unbelievable, easy-paced, nice bounce and just coming on to the bat lovely. You get the feeling you're in an 'indoor-school' scenario. It's not doing much off the straight, not seaming, not really bouncing much - and it's not spinning at all. So it's difficult."
"We trust our plans, have done for the last two or three years - and we hope, if we deliver our skills well, we'll show you (how to take wickets in India)," said Bresnan.