Anthony McGrath backing Yorkshire team-mates Joe Root and Tim Bresnan in India
Anthony McGrath has backed Yorkshire team-mate Joe Root to rise to the challenge should he be selected against India.
Last Updated: 13/11/12 3:58pm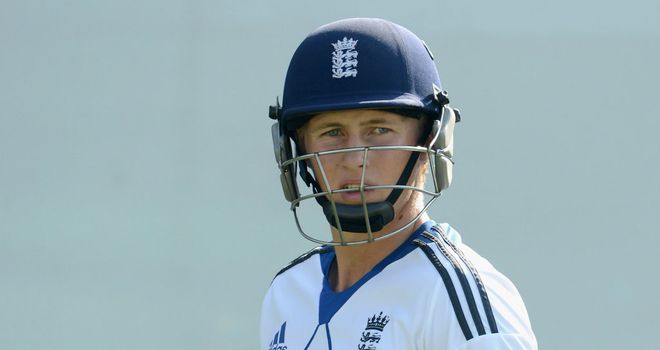 Root is currently embarking on his maiden tour with the Test squad after impressing for Yorkshire and England Lions in recent seasons.
The 21-year-old is 16 years McGrath's junior but the Tykes veteran has seen enough of the right-hander to convince him that he is primed for a successful career at the highest level.
He told Sky Sports: "It's looking like (Nick) Compton is going to get the nod for the first Test because he has played in the last couple of warm-up games and scored a couple of 50s, but whether he plays or not it will be really good experience for Joe.
"He's only young and England have clearly earmarked him to be a future international. He'll gain great experience out there and while obviously he'd prefer to be playing, I have no doubt if he played he'd do well. He plays spin well and I certainly think he's one for the future."
McGrath, who has previous playing experience in India having attended a spin class in Mumbai in between domestic campaigns, believes England's early arrival in the sub-continent makes them better prepared for the forthcoming four-Test series than previous tours.
Alastair Cook's men have shown signs of promise in draws against India A, Mumbai A and Haryana, and McGrath believes it is imperative the tourists adapt to conditions quickly if they are to record their first series victory in India since 1985.
He added: "It's going to be tough. We've obviously not won out there for almost 30 years now but the good thing this time is that they have gone out there early, played a couple of warm-up games and got a lot of practice in.
"I know they have been disrupted by a couple of injuries but most of the squad have had good preparation. If we can get runs on the board in the first-innings I think we've got a really good chance.
"I've been out to Mumbai on a two-three week spin class and played a few a games over there and it's completely foreign conditions to what we're used to but the fact they have gone out there early - the more you get used to it the more beneficial it will be."
Another Yorkshireman, Tim Bresnan, looks set to start in Thursday's opening Test at Ahmedabad due to an injury to fellow paceman Steven Finn.
And McGrath believes his fellow all-rounder is more than worthy of his place in the side.
"Bresy looks like he will play due to Finn's injury. He's done really well over the last 18 months/two years and been a consistent performer," he said.
"I know he didn't have the best of series against South Africa but apart from that his record for England is fantastic.
"We're in a period where we've got really good seam options. (Stuart) Broad and (James) Anderson are the first two seamers on the team sheet and Bres has fought it out with Finn in recent times and we've also got (Graham) Onions and (Stuart) Meaker out there so we've got some great options.
"Bres bats well and got some important contributions down the list. He won 13 out of his first 14 Tests and I think he is a bit unlucky (to be in and out of the team) but he's that kind of cricketer where he doesn't get down if he's out of the team and when he comes back in he always does a job."