Day Two: England lose three early wickets as India spinners go for jugular
England are staring down the barrel after they slumped to 41-3 as they looked to make inroads into a huge Indian total.
Last Updated: 18/11/12 6:32am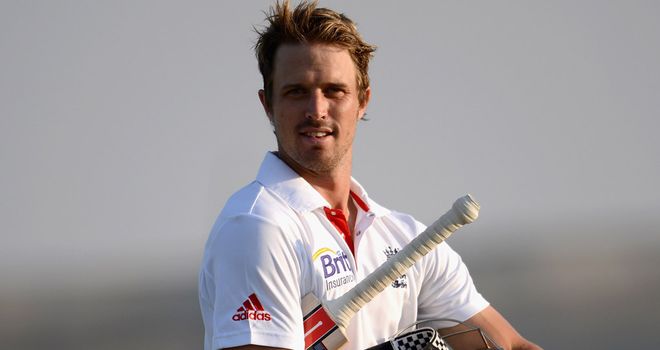 Debutant Nick Compton fell to the spin of Ravichandran Ashwan - who opened the bowling - for nine as England looked to respond to the home side's daunting 521-8.
Nightwatchman Jimmy Anderson was dismissed soon after for two, exposing Jonathan Trott who became Ashwan's second victim, falling for a duck to a catch at short leg by double centurion Cheteshwar Pujara.
Kevin Pietersen made his return to the international fray and was swiftly greeted by the slow left arm spin of nemesis Yuvraj Singh but the Surrey man survived alongside skipper Alastair Cook (22 not out) to close unbeaten on six.
India's mammoth total was set up by Pujara's eight-and-a-half-hour tour de force which was concluded only when Mahendra Singh Dhoni decided it was time to declare and test England's batsmen.
Graeme Swann's 14th five-wicket Test haul came at the cost of 144 runs in an India innings featuring major contributions from Pujara (206no), Virender Sehwag (117) and Yuvraj Singh (74).
The latter's was a poignant innings, his first in Tests since his recovery from cancer.
But Pujara's 389-ball marathon, containing 21 fours, had done most to tire the tourists' limbs.
If there was a consolation for England, it was that this pitch has yet to show any significant signs of deterioration - and therefore their prospects of closing out a draw remain viable.
During their second consecutive wicketless morning, Yuvraj passed a comeback half-century - in his first Test innings since recovering from cancer - and Pujara completed India's second individual hundred of the match after Virender Sehwag's blistering statement of intent yesterday.
Yuvraj reached his 98-ball 50 with a big hit over midwicket off Swann for his fifth four, to go with a one straight six also off the off-spinner.
England immediately gave the ball, only four overs old, to Swann rather than seam at each end this morning.
But the closest they came to a breakthrough before lunch was with a collection of lbw appeals, the most convincing of which was Swann's from only the second ball of the day when Yuvraj missed a sweep without addition to his overnight 24.
He and Pujara then appeared to target Swann, taking 15 off one over - including that six from Yuvraj - but Cook kept his nerve, and the off-spinner continued.
By then, Pujara had moved from his start-of-play 98 past his hundred, from 190 balls and having hit 13 fours.
It soon turned into a 'groundhog' experience for England - although, to defensive fields, runs did not come as quickly as they had for Sehwag 24 hours earlier.
Cook employed some unconventional fielding positions at times, posting a seven-two off-side arrangement - with no catchers behind the bat - to help Anderson dry up the run-rate against Pujara.
The stoic number three is not a batsman to respond with a loss of patience, however, and it seemed England's best hope was to try to out-bore him and hope for a mistake from Yuvraj.
It was not until early afternoon that they had any respite.
Yuvraj clubbed a Samit Patel full-toss to Swann in the leg-side deep, and then the off-spinner put himself back in the wickets column too when Mahendra Singh Dhoni deflected an attempted sweep down on to his stumps.
Pietersen's part-time off-spin accounted for Ashwan for 23, while James Anderson finally gained some reward as he dismissed Zaheer Khan.
Pujara remained less cooperative and showed no signs of weariness as he negotiated a third successive full session in an innings of over eight hours, 389 balls before the declaration came.